L C Smith (1888 – 1915)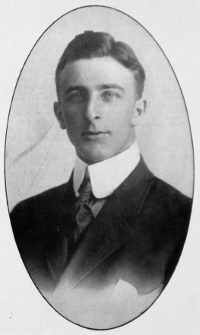 Leslie Charles Smith was born on 23rd October, 1888 and was baptised at St Leonard's on 21st November. He was the son of Richard Charles Smith, Grocer and Wine Merchant, and his wife, Marion. Richard, was Mayor of Bridgnorth 1889 – 1890 but died in 1892 at the early age of 33. The family lived in the High Street at Cross Keys Vaults.
Leslie was educated at Bridgnorth Grammar School. After leaving the school he became a civil engineer. He emigrated to Canada in 1908 where he lived for a time in Medicine Hat, Alberta.
Leslie joined the Canadian Army at the outbreak of war. He served in the 7th Battalion 2nd Brigade, 1st Canadian Division. He died on the 24th April, 1915 during the Second Battle of Ypres. He is commemorated on the Ypres (Menin Gate) Memorial.
The death of Private Smith was reported in the Bridgnorth Journal on 5th June, 1915.
WOUNDED AND MISSING [Bridgnorth Journal, Saturday 22nd May, 1915] 2344 Private Leslie C. Smith, D. Co., 1st British Columbia Regiment, First Canadian Expeditionary Force, is reported wounded and missing. He is a son of the late Councillor R. Smith, a former Mayor of Bridgnorth.
BRIDGNORTH AND THE WAR [Bridgnorth Journal, Saturday 5th June, 1915] 2344 Private Leslie C. Smith, D Co., 1st British Columbia Regiment, First Canadian Expeditionary Force, son of the late Councillor R. C. Smith, who was Mayor of this Borough in 1889-90, was recently included in a list of wounded and missing. Information has now come to hand that his young soldier was killed.
OBITUARY [Bridgnorth Grammar School Magazine, July 1915] Leslie Smith was the younger son of the late Mr. R. C. Smith, of Bridgnorth. He left school in 1905 at the age of sixteen and went to Canada with the intention of going in for farming. After spending some time gaining practical experience of farming on a large farm near Calgary, he entered Guelph Agricultural College, but farm life was not really congenial to him and he eventually joined the engineering service of the Canadian Pacific Railway Co.
Immediately on the outbreak of war he enlisted and came to England with the 1st Canadian Contingent, leaving for the front in February. The subjoined letter from his comrade in arms gives full particulars of the manner of his death and is also so interesting in itself that it is well worth publishing.
At school Leslie Smith was always a thorough sportsman and we feel sure he carried this characteristic with him into the wider sphere of life. He was a good athlete, playing back for the School XI at football and always playing a clean hard game. He was popular among his school fellows to whom his cheerful irrepressible temperament appealed, and we do not doubt that many Old Boys will feel a real personal sorrow at his early death.
7th Canadian Batt., 1st B.C. Rgt.,
Ward 2,
North Staffordshire Infirmary,
Hartshill,
Stoke-on-Trent,
July 4th, 1915.
Mr. W. T Smith.
Dear Sir,
I have just received your letter asking for information concerning your nephew, Pte. L. C. Smith.
Leslie and I were chums from the time of our enlistment in Nelson B.C, shared tents at Valcartier and Salisbury Plains, same dug-outs in France and Belgium.
We had finished our five days' spell in the fire-trenches on the night of St. Julien, being relieved by the 8th Batt (90th Wpg. Rifles) and were in reserve in dug-outs three-quarters of a mile in the rear, when the big gas attack commenced on the afternoon of Thursday April 22nd and the Germans broke through. Our Batt. was at once sent up to support the 8th; at day-break Saturday, 24th the 3rd Brigade on our left was again attacked and our Highlanders had to fall back, leaving several gaps through which the Germans were pushing. I might say that the Ypres salient was in the shape of a very narrow horse-shoe and we were in the toe, so that when our left flank was bent back we were practically surrounded. The situation being-desperate, we were ordered to the aid of the Highlanders advancing under heavy shell and rifle fire across open country (the fire came from 3 sides), and it fell to the lot of our platoon (No. 9) to occupy one of these gaps. Leslie was about 50ft away on my left when we reached our position. We had got separated in the rush, but during a lull in the attack he waved his hand to me.
A short while after this the German Artillery opened up and got our exact range, point blank; most of this shrapnel bursting by percussion. It is bad enough to be shelled in the trenches, but in the open with just a little soil scratched up to shelter our heads----! What the Germans could not do with their infantry they tried to do with artillery, but none gave way except the wounded who crawled away on hands and knees. And here word was passed along to me that Leslie was killed by shrapnel. A few moments afterwards I was "blown" up.
Please excuse my round-about way of stating a few facts, but it will show that there is at least some satisfaction in a death of this kind, better than being shot in the back by a "sniper".
Your nephew was a splendid soldier in a crowd of splendid soldiers. Nos. 1 and 2 Sections of 9th platoon were all "West Kootenay" men, volunteers who without exception, had given up good berths. Perhaps it did not seem to Leslie that he was helping to "save the situation" (it certainly did not appear so to me at the time), but what we did not know, was, that if the Germans had known as much as we did at that time they could have been in "Ypres" in less than two hours, one thin line holding them back. All the Officers of our Company, with one exception, were killed outright early in the attack, and of the two sections (24 men) only two were untouched.
Your nephew was very popular, I knew his courage, we were always side by side on the march, shared our parcels, our cigarettes and the last mouthful of water in our bottles, and generally managed to get "on guard" and sentry together. He was always helping somebody out. We often used to speak of our intentions when the war was over.
Once again I must ask you to excuse rambling letter and pencil, I am still in bed after an operation but am doing fine and am getting up in a day or two.
Thanks for good wishes, am not seriously hurt.
Yours very truly,
PTE. CHARLES KREMPEAUX, 23405.
This memorial has mostly been compiled from official sources. It would be good to be able to expand it with more personal material - memories, stories, photos, etc. If you have any suitable material or any corrections please contact Greg. For news of updates follow @BridgnorthHeros on Twitter.