W Thomas (1880 – 1916)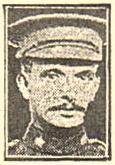 William Thomas was born on the 22nd September, 1880 and was baptised at St Leonard, Bridgnorth, on the 11th October. He was the son of William Thomas, a dyehouse labourer at the carpet factory, and his wife, Hannah. The family lived on Cartway.
After leaving school, William became a carpet weaver. He emigrated to Canada, settling in Toronto. He was married to Emma Jane.
William joined the Canadian Army in July 1915. He served in the 75th Battalion Canadian Infantry, part of the 4th Canadian Division. William died on 18th November, 1916, the last day of the Battle of the Somme, on which day his division attacked and captured German trenches around Grandcourt on the Ancre.
PTE. WM. THOMAS KILLED. [Toronto Evening Telegram, December 8th, 1916] Mrs. Thomas. 66 Dundas street, has received word that her husband, Pte. William Thomas, has been killed in action. He was born in England, 36 years ago, and had been in Canada about eight years. For the past seven years ho was employed by the Toronto Carpet Co. He was a stretcher-bearer with a Toronto battalion. He leaves a widow and five children, the oldest of whom is thirteen. In his last letter to his wife he stated that as he was coming from the trenches he saw his brother, Arthur, who was with a Peterboro battalion, going into the trenches. The two, however, did not get a chance to speak.
LEAVES FAMILY OF FIVE [Toronto Star, December 9th, 1916] Pte. Wm. Thomas Killed, Tells His Wife Not to Worry. Pte. William Thomas, 66 Dundas street, who has been reported killed in action, leaves a widow and four small children. He enlisted about a year ago as a stretcher-bearer,and left for overseas in March of the present year. Before enlisting he was employed as a weaver at the Toronto Carpet Works. Pte. Thomas' wife received a letter from him a few days before the telegram stating that he had been killed November 18, arrived in which he said that he had met his brother, Pte. Arthur Thomas, as the latter was coming out of the trenches. He said that he expected to be in action very shortly. "Do not worry, all will be well," was the comforting message which his wife received. Pte. Thomas was 36 years of age, born in England, and came to Canada several years ago.
This memorial has mostly been compiled from official sources. It would be good to be able to expand it with more personal material - memories, stories, photos, etc. If you have any suitable material or any corrections please contact Greg. For news of updates follow @BridgnorthHeros on Twitter.