R H Walker (1892 – 1916)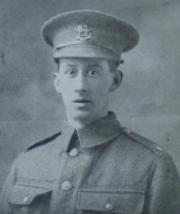 Robert Harry Walker was born in Bridgnorth in 1892. He was the son of George Walker, a butcher, and his wife Ann. They lived in the High Street. After leaving school, Robert worked as a butcher. He married Mary Ffoulkes Lloyd in 1916.
Harry served in the 11th Battalion The Border Regiment. He was killed in action on 18th November, 1916, the last day of the Battle of the Somme, on which day his division attacked German trenches during the Battle of the Ancre phase of the Somme. He is buried in Ancre British Cemetery, Beaumont-Hamel.
Private Walker, 27830, was awarded the Victory and British medals. His death was reported in the Bridgnorth Journal of 9th December, 1916.
KILLED IN ACTION [Bridgnorth Journal 9th December, 1916] An official intimation has been received that Private R. H. Walker, 11th Border Regiment (son of Mr. and Mrs. Geo. Walker, High Street, Bridgnorth), was killed in action on Nov. 18th. He is 24 years of age.
OLD BOY NOTES [Bridgnorth Grammar School Magazine, December 1916] There is a heavy list of Casualties among our Old Boys this term. Five more names have to be added to the ever-lengthening list of those who have fallen on the Field of Battle: Pte. T. H. Robins, Pte. F. Head, 2nd Lieut. A. E. Boucher, Sgt. R. B. Findon, Pte. H. Walker. They have made the supreme sacrifice and are at rest, but we shall not forget, and their names will live in our annals as long as there is a Bridgnorth Grammar School.
OBITUARY [Bridgnorth Grammar School Magazine, December 1916] Private R. H. Walker (of the 11th Border Regiment) is the fifth of our Old Boys to lose his life in battle this term. The information has reached us just as we are preparing the Magazine for publication, and the suddennes of the tragic news is heightened by its unexpectedness, for it is but a very short time since we saw him in the town, home for his final leave before going to France. We have practically no details yet. We only know that he was killed in action and died as a soldier fighting for his country.
He received his education at B.G.S. and after leaving school entered his father's business where he speedily became his father's right-hand man and where he remained until the time of his enlisting. He was married shortly before going to the front and was 24 years of age at the time of his death.
We should like his family and friends to feel that his Old School mourns and sympathises with them in their great loss.
This memorial has mostly been compiled from official sources. It would be good to be able to expand it with more personal material - memories, stories, photos, etc. If you have any suitable material or any corrections please contact Greg. For news of updates follow @BridgnorthHeros on Twitter.