L J Winwood (1892 – 1918)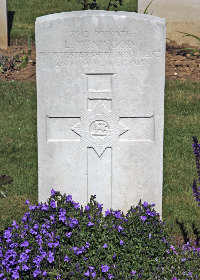 Photograph of Private Winwood's grave by kind permission of Jayne Tew.
Leonard John Winwood was born in Bridgnorth. He was the son of William Winwood, a groom and coachman, and his wife, Susan. They lived in Hospital Street. After he left school, Leonard worked as a farm labourer in Upper Arley. He married Ada Taylor, daughter of John Taylor, a timber merchant's contractor from Claverley, at Kidderminster Registry Office in November 1911. They had three children, Robert, Wilf and Marguerite. Robert, died aged 7 in 1919. He is buried in Claverley Churchyard.
Leonard served with the 2/8th Battalion Worcestershire Regiment. He survived the war but died in a railway accident on 26th November, 1918 while still in France. He is buried in Terlincthun British Cemetery, Wimille.
Private Winwood, 17912, was awarded the Victory and British medals and the 1915 Star. His death was reported in the Bridgnorth Journal on 28th December, 1918.
KILLED IN RAILWAY ACCIDENT [Bridgnorth Journal, Saturday 28th December, 1918] Mrs. L. J. Winwood, Yew Tree Farm Cottage, Four Ways, Farmcote, near Bridgnorth, has been informed that her husband, 117912 Pte. Leonard J. Winwood, B Co., 2/8 Worcesters, was killed on the 29th ult. in a railway accident on a journey from Cambrai. The train suddenly left the line, three trucks were smashed to pieces, and Pte. Winwood was killed instantaneously. He was buried in the cemetery near the scene of the accident. His Captain says: "I cannot say how sorry I am. Your husband was one of the best men in my Company. We shall miss him greatly." Pte. Winwood was the youngest son of Mrs. Susan Winwood and the late Wm. Winwood, St. James' Lodge, Bridgnorth.
This memorial has mostly been compiled from official sources. It would be good to be able to expand it with more personal material - memories, stories, photos, etc. If you have any suitable material or any corrections please contact Greg. For news of updates follow @BridgnorthHeros on Twitter.