C Wood (d. 1916)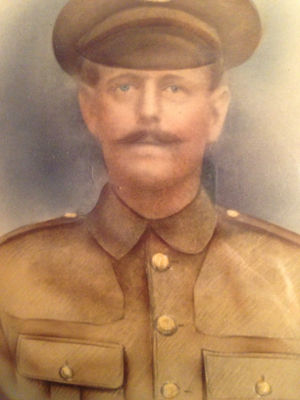 Image courtesy of Neil Simmons
The Bridgnorth Journal of 2nd September, 1916, reports the death, killed in action, of Private Charles Wood, age 38, of 66 Cartway.
Charles Wood, 18682 of the 1st Battalion, King's Shropshire Light Infantry, was killed in action on the Somme on 19th August 1916. He is buried in Euston Cemetery, Colincamps. Charles Wood was born in Minsterley (possibly in 1879) and was resident in Highley when he enlisted at Bridgnorth. He had been serving for a year.
He is probably the Charles Wood who married Mary Ann Phillips in Bridgnorth in 1903. In 1911 this Charles, a farm labourer aged 32, born Shropshire (no place given), is living with his wife Mary Ann and his three children at 66 Listley Street.
Private Wood, 18682, was awarded the Victory and British medals. His death was reported in the Bridgnorth Journal on 2nd September, 1916.
KILLED IN ACTION [Bridgnorth Journal 2nd September, 1916] Mrs Wood, of 66 Cartway, Bridgnorth, has received official information of the death of her husband, 18682 Private C. Wood, 1st K.S.L.I., who was killed in action in France, in relation to which she has also received the following letter from Lieut. E. S. Wood: 'I very much regret to have to write and inform you of your husband's (No. 18682 Pte C. Wood's) death on Saturday last, Aug. 19th, at 11.40 a.m. He was in the trench when a shell struck it and killed him instantly. I have not had the platoon for long, but since I have known your husband he has done everything with a good spirit, and was a good soldier, setting a good example to the younger men. I trust that time will help to soften the blow which you have got to bear.'
This memorial has mostly been compiled from official sources. It would be good to be able to expand it with more personal material - memories, stories, photos, etc. If you have any suitable material or any corrections please contact Greg. For news of updates follow @BridgnorthHeros on Twitter.