Hugh Charles Maynard (1876 - 1916)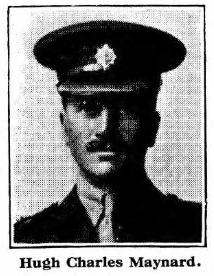 Hugh Maynard was born in London, the son of Joseph and Mary. He was the grandson of Captain Joseph Maynard RN, of The Croft, Bridgnorth.
De Ruvigny's Roll of Honour, a collection of biographies of some of those who died in the Great War, includes the following details:
MAYNARD, HUGH CHARLES, Lieut., 1st Battn. The Coldstream Guards, 3rd s. of the late Joseph Maynard, by his wife, Mary; and gdson. of Capt. Joseph Maynard. R.N., of The Croft, Bridgnorth, co. Salop: b. London, 15 Jan. 1876; educ. St. Lawrence's College, Ramsgate; was Assistant Political Resident in Northern Nigeria for some time; obtained a commission as 2nd Lieut, in the Special Reserve of the King's Royal Rifle Corps 3 Dec. 1913; was promoted Lieut. 15 June, 1914, and Capt. 5 Jan. 1915; served with the Expeditionary Force in France and Flanders from Sept. 1914, attached to the 1st Battn. of his regiment; took part in the Battle of the Ancre, and the First Battle of Ypres; was invalided home with dysentery the following Nov.; transferred to the Coldstream Guards as Lieut, in Feb. 1916; returned to France in June, and was killed in action between Flers and Les Boeufs, during the fighting on the Somme. 15 Sept. following, while repulsing the 3rd German counter-attack that night. Buried where he fell, in front of the barbed wire of the German front trench. The Colonel of the regiment. Col. Drummond-Hay, wrote: "Your gallant husband must have been through the whole fight, and finally gave his life in trying to safeguard the right flank. I cannot say how deeply I regret, from a regimental point of view, the loss your husband is to us. With his previous military experience and a naturally quick grasp of a military situation, he gave promise of being an exceptionally good officer. The final test was on the 15th. when he stamped himself a born soldier and capable leader, by leading his men through the attack, and then, not content with that, having quickly grasped the danger to our exposed flank, of his own initiative he moved his men and took up a position to cover it, a most courageous act. What adds so much to the poignancy of my sorrow that we have lost him is the thought of the shortness of the time allowed him in the regiment before he was called upon to pay the great sacrifice, while helping it to win through the most glorious day in all its long and glorious history. The testimony to his bravery under fire is a splendid memory; it is this disregard of his personal safety, while doing all possible for the safety of his men, that makes the men ready to do anything and go anywhere after such an officer as your husband was. It is hard losing such a man," and the Colonel of his battalion. Lieut.-Col. Hopwood. D.S.O.: " He did most awfully well all through the day of the 15th, and was a most gallant officer. Although he had only been with us a short time we shall miss him very much." He m. at Windsor, 20 Dec. 1915. Frances Mary [ Mafra ], only child of Oscar Blount, of The Hut, Windsor, and of Orche Hill, Gerrard's Cross, co. Buckingham, and great-granddau. of Edward Adolphus, 11th Duke of Somerset. K.G.; s.p.
This memorial has mostly been compiled from official sources. It would be good to be able to expand it with more personal material - memories, stories, photos, etc. If you have any suitable material or any corrections please contact Greg. For news of updates follow @BridgnorthHeros on Twitter.