Captain Douglas Spurway (1896 - 1918)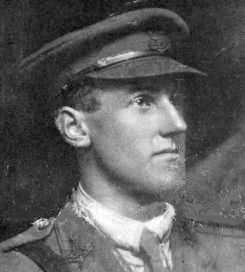 Douglas Spurway was born in Tring, Hertfordshire on 7th February, 1896. He was the son of Dr. John Spurway, surgeon and physician, and his American-born wife Mary Alsop.
John Spurway had been born in Kidderminster: possibly because of this connection Douglas was sent as a boarder to Bridgnorth Grammar School where he was a pupil from 1908 to 1914.
After a year at medical school, Douglas joined the Yorkshire Regiment, serving with the 4th Battalion. He was killed in action 'by rifle and machine gun bullets near Hancourt' on 23rd March, 1918 - early in the German Spring Offensive.
Captain Spurway was mentioned in Haig's despatch of 7th November, 1917. He was awarded the Victory and British medals and Emblem.
OLD BOY NOTES [Bridgnorth Grammar School Magazine, December 1916] 2nd Lieut. D. Spurway is in the thick of things and to judge by his letters, is obviously enjoying himself.
MENTIONED IN DESPATCHES [Bridgnorth Journal, 22nd December, 1917] Sec.-Lieut, (acting Capt.) Douglas Spurway, Yorkshire Regiment, was mentioned in despatches published on Thursday last. Lieut. Spurway was educated at Bridgnorth Grammar School.
ANOTHER OLD GRAMMAR SCHOOL BOY KILLED [Bridgnorth Journal, Saturday 27th April, 1918] We regret to announce the death of Captain Douglas Spurway, of the 4th Yorkshire Regiment, who was killed on the 22nd March. An officer of his Battalion writes that "he died heroically, leading the men he loved." Captain Spurway entered the Bridgnorth Grammar School in September 1908 and had a distinguished career both as scholar and athlete. He matriculated at Birmingham University at the age of 15. He left school in July, 1914, as "Careswell " and " Foster" scholar entering the Faculty of Medicine at London University at "Bart's" Hospital, where he was placed first in the Arts Entrance examination. After completing his first year's medical course he obtained a commission in the Yorkshire Regiment in 1915, and proved so useful in training men that he received temporary promotion to lieutenant, a promotion afterwards re-conferred upon him for services in the field. He received his Company last May. He was a great favourite with his brother-officers, and his men loved and respected him. While at school he won the 100 yard's race in the Inter-School competition, and played for the school as recently as last February in the match against a Town team for the benefit of the K.S.L.I., Prisoners of War.
CAPTAIN DOUGLAS SPURWAY.
4th Yorkshire Regt.
Killed in Action, March 22nd, 1918.
Aged 22 years.
[Bridgnorth Grammar School Magazine, July 1918] The School suffered a severe loss by the death in action of Captain D. Spurway, which took place on March 22nd, 1918 in France.
Captain Spurway entered B.G.S. in the September of 1908 and left in the July of 19(4. He was therefore one of our recent Old Boys, and there are several still at the School who have grieved deeply over his death. Caesar, as he was universally called, had the gift of winning affection and his capacity for sympathy and understanding ensured his keeping the friends he had won. He was the best type of schoolboy, distinguished in work and play, bringing honour to the School by his scholarship and winning laurels for her in sport. Moreoverhe had a great affection for the School, which was to him a real "Alma Mater" to be loved and remembered. He never let a leave pass without running over to Bridgnorth and mingling with the boys once more Only a very short time before hibs noble and tragic end. he was over on leave and played for the old School in a football match.
His record at School was a high one. In 1912 he passed both the Birmingham and London University Matriculation Examinations, and in 1914 — the Oxford Senior Local being then the School Leaving Examination - he entered for this and gained First Class Honours. In 1914. on leaving School, he commenced his studies in the Faculty of Medicine at London University and was successful in competing for a £100 Scholarship at St. Bartholomew's Hospital, London, being bracketed equal with another student with whom he shared the Prize. He passed the First Year's Medical Students' Examination in June. 1915. He had already entered the London University O.T.C. in the previous May. and in August. 1915, he was given a Commission in the 3/4 Yorkshire Regiment. He was promoted 1st Lieutenant in June. 1916. but reverted to the rank of 2nd Lieutenant on going out to France in July. 1916. He was raised to the rank of Captain in March, 1917, and was mentioned in Despatches in December, 1917. His greatest ambition on receiving his company was to lead his men over the top. He loved his bluff Yorkshiremen, especially admiring their grand fighting qualities. He was a good judge of these qualities, for if ever there was a fighter it was Douglas Spurway - one of the very bravest. Also it is not astonishing to hear that his men adored him. One of his fellow officers speaks of him as a thorough gentleman and everything that an officer should be.
The School offers the sincerest sympathy to his parents in their great loss.
This memorial has mostly been compiled from official sources. It would be good to be able to expand it with more personal material - memories, stories, photos, etc. If you have any suitable material or any corrections please contact Greg. For news of updates follow @BridgnorthHeros on Twitter.