J W Hinckesman (1890 - 1917)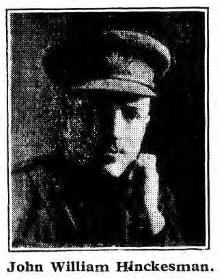 John William Hinckesman was born at Aston Botterell on 15th September, 1890, nine days after his twin brother, Charles Henry. He was the son of John William Hickesman, agriculturalist of Charlcotte House, Aston Botterell, and his wife Marion. He was the cousin of Richard Boycott Hinckesman.
John was educated at Bridgnorth Grammar School. In 1911 he was living with his widowed mother at Severn House, Eardington, and was 'learning fruit farming'.
John, Charles and their younger brother George Frederick emigrated to Canada, settling as farmers in Penticon, British Columbia. All three brothers enlisted in the Canadian Army.
John served as a lieutenant with the 47th Battalion, Canadian Infantry. He died on 27th October, 1917 during the Second Battle of Passchendaele. He is commemorated on the Tyne Cot Memorial and also on the war memorial at St Andrew's Church, Ombersley, Worcestershire.
DEATH OF OLD BRIDGNORTH GRAMMAR SCHOOL BOY [Bridgnorth Journal, 24th November, 1917] News has been received of the death of Lieut. J. W. Hinckesman, of the 47th Canadian Infantry Battalion, who was killed is action in France. He was a son of the late Mr. J. W. Hinckesman, of Charlcotte, near Bridgnorth, and Mrs. Hinckesman. Lieut. Hinckesman was educated at the Bridgnorth Grammar School. Writing to Mrs. Hinckesman on the 30th ult., Major Carmichael, 47th Canadian Infantry Battalion, says : "I am directed by the Officer commanding to express to you on behalf of himself, officers, and N.C.O.'s and men under his command the deepest sympathy of all for the loss you have sustained in the death of Lieut. John William Hinckesman. He was touring the line in tha course of his duty, when he was struck on the lower part of the jaw by an exploding bullet, rendering him immediately unconcious. He died two minutes afterwards. In his death the battalion has sustained a great loss, as he was looked upon as one of the most promising officers and was actually due for immediate promotion for the good work he has done in this unit. By all, he was looked upon as a thoroughly efficient, couragous, and reliable officer, and the men of B Company, with whom he was more familiar, feel his loss particularly. During the whole of his connection with this battalion his relationship with all ranks was one of the most pleasant character. The operation in which the battalion was engaged at the time resulted very successfully, and the work done by Lieut. J. W. Hinckesman on the night of the 27th was most creditably performed., and the information he obtained was of great value, the situation being very precarious at the time. Burial took place on the battlefield, due to the intense shelling of the area. Volunteers were numerous in the Company to carry the body out in spite of danger. The activity of the enemy artillery rendered this absolutely impossible, as the distance across open country was three miles and all approaches were heavily and accurately shelled. You will be able to obtain a map location of the place of interment from the Graves Registration Department and the personal effects will be forwarded through the Estates Branch. In conclusion allow me to extend my own personal sympathy, and feel assured that anything we can do towards obtaining further information will be done most willingly." Captain F. Milne also wrote: "Kindly allow me to sympathise with you in your great loss, which has come to us all with such suddenness. He was in my estimation one of the finest chaps I ever met, and the best officer this battalion has ever had, and we certainly miss him very much. Kindly accept these few words, as I can't express just how I feel."
WALLASEY CASUALTIES. [Liverpool Echo 10th Nov, 1917] Lieut. John W. Hinckesman (27), of the Canadian Infantry, who was in British Columbia at the outbreak of war, and enlisted at once, and who, a year ago, married Miss Eva Male, of Canterbury-road, Wallasey, was killed in action on October 28.
This memorial has mostly been compiled from official sources. It would be good to be able to expand it with more personal material - memories, stories, photos, etc. If you have any suitable material or any corrections please contact Greg. For news of updates follow @BridgnorthHeros on Twitter.