T H Robins (1896 - 1916)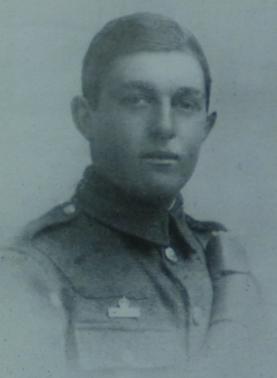 Thomas Hoblyn Robins was born in Morville in 1896. He was the son of Thomas Hoblyn Robins, a farmer, and his wife Alice Anne. They lived at The Croft, Morville.
In 1911 Thomas was a border at St Oswald's College, Ellesmere. Prior to this he had attended Bridgnorth Grammar School.
Thomas served with the Shropshire Yeomanry, later being transferred to the 6th Battalion King's Shropshire Light Infantry. He was killed in action on 6th October, 1916, during the Battle of Le Transloy (a phase of the Somme 1916 campaign). The battalion war diary records: "Trenches 6/10/16. No unusual activity. 6 pm. Relief of Battalion by 6th Oxford & Bucks L. I. commenced and Battalion moved into Reserve . . . Large parties again found for digging assembly trenches & carrying to front line. One other rank killed and 19 other ranks wounded. 2 other ranks wounded (self inflicted wounds)." Thomas is commemorated on the Thiepval Memorial.
Private Robins was awarded the Victory and British medals.
KILLED IN ACTION
[Bridgnorth Journal 28th October, 1916]
Another young local soldier to make the great sacrifice is Thomas Hoblyn Robins, Shropshire Yeomanry (attached K.S.L.I.), elder son of Mr T. H. Robins, The Croft, Morville, Bridgnorth. He was 20 years of age, and was killed in action whilst fighting in France.
OLD BOY NOTES [Bridgnorth Grammar School Magazine, December 1916] There is a heavy list of Casualties among our Old Boys this term. Five more names have to be added to the ever-lengthening list of those who have fallen on the Field of Battle: Pte. T. H. Robins, Pte. F. Head, 2nd Lieut. A. E. Boucher, Sgt. R. B. Findon, Pte. H. Walker. They have made the supreme sacrifice and are at rest, but we shall not forget, and their names will live in our annals as long as there is a Bridgnorth Grammar School.
OBITUARY [Bridgnorth Grammar School Magazine, December 1916] Private T. H. Robins (Shropshire Yeomanry) died out in France in October. He had fretted at the length of his training in England and was all eagerness to get into the firing line, but though his wish was granted him, he was not destined to have a very long time on the battle-field. He had been out only a very short time when he was struck by a shell and killed instantly.
T. H. Robins' connection with the School dates back 14 years or more and for many years the name of "Tommy Robins" was one of the best known in the School. He was one of our most "sporting" Old Boys, full of life and vigour, full of fight. Looking back over the past, one thinks of him first as a very tiny boy running about between the legs of the big boys. He was the smallest boarder at the School at that time, probably the smallest boarder we ever had, and to see him playing happily round the legs of the Captain of the School and Senior Boarder, a strapping six-footer, was a sight worth seeing. As he grew up he distinguished himself by being foremost in every rough-and-tumble enterprise that required skill and daring. And yet one was never anxious about him, for he had an abundance of sturdy manhood in him and his character was fundamentally serious and solid.
He has died nobly at his post and there was some comfort in the thought that his end was so mercifully swift. Our heartfelt sympathy goes out to his sorrowing parents and friends. We trust they will find comfort in their great grief.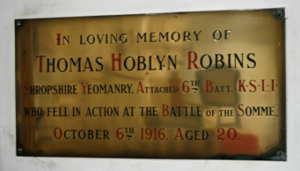 Memorial to T H Robins in Morville Parish Church.
This memorial has mostly been compiled from official sources. It would be good to be able to expand it with more personal material - memories, stories, photos, etc. If you have any suitable material or any corrections please contact Greg. For news of updates follow @BridgnorthHeros on Twitter.