CSM A E Morris (1887 - 1917)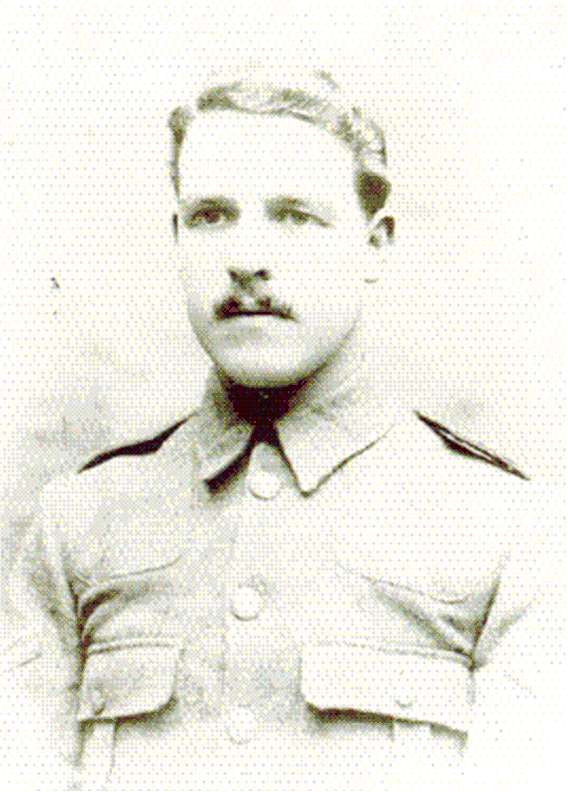 Photographs by kind permission of Stephen Moorhouse, chairman of the Worcestershire and Herefordshire branch of the Western Front Association.
Albert Edward Morris was the son of Thomas Morris, a waggoner from Ireland, and his wife Mary, who lived at Bromley. After working for a time as an errand boy, Albert worked on the land. He married Sarah Eleanor and they lived at Kemp's Farm, Belle Vue, Shrewsbury.
Albert served with the 1st Battalion, King's Shropshire Light Infantry. He probably joined the battalion in 1916 in time to take part in the Somme Campaign of 1916. He was killed in action on 20th November, 1917, the opening day of the Battle of Cambrai when the 6th Division (of which the 1st KSLI were a part) captured Ribecourt.
WO2 (CQMS) Morris, 7884, is buried in Ribecourt British Cemetery. He was awarded the Victory and British War medals.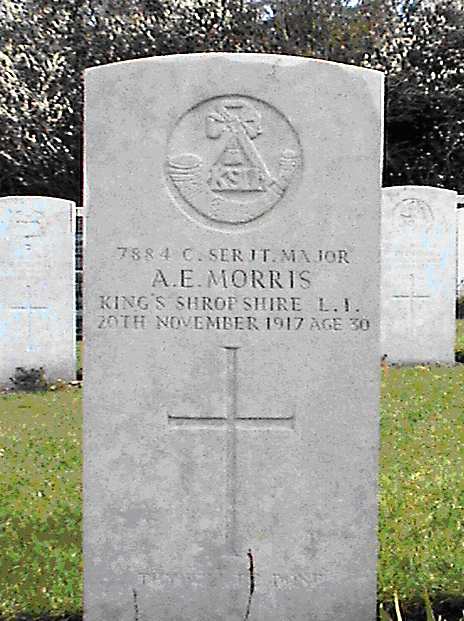 Stephen Moorhouse adds: 'He was killed less than an hour into the battle. Although his parents lived at 3, Bromley at the time of his death (his father worked on Mapp's farm), he was actually born at 82 Cartway in Bridgnorth. He was a pre-war regular and qualified as a PTI just before the outbreak of hostilities (rank, Sergeant) and probably spent the first half of the war training recruits (possibly in the Plymouth area). He may have gone to France as a training or drill sergeant some time before he joined his battalion (that is my conjecture). However, he certainly did'nt go overseas before 1st January, 1916, otherwise he would have received the 1914-15 Star. One of the battalion's CSM's was seriously wounded in February 1917, and that could have been when Albert was sent to the front line, although he could have been there during the Battle of the Somme, as you say.
'His wife's maiden name was Cliffe and her parent's farmed at Kemp's Eye. After the war she married one of Albert's younger brothers, Pat, who went on to be the gamekeeper at Dudmaston Hall. Pat and Sarah Eleanor (known in her later years as 'Auntie Nellie') are buried together in Quatt churchyard.'
This memorial has mostly been compiled from official sources. It would be good to be able to expand it with more personal material - memories, stories, photos, etc. If you have any suitable material or any corrections please contact Greg. For news of updates follow @BridgnorthHeros on Twitter.