Serg P J Griffiths (1894 – 1918)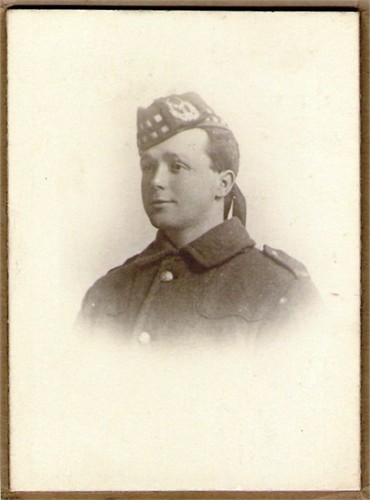 Percy John Griffiths was baptised at St Leonard's on the 18th July, 1894. His parents were John Alfred, a worsted carpet weaver, and Annie Jane. They lived in North Gate.
Percy became a groom. He enlisted in January, 1915, joining the Army Service Corps (Horse Transport). At some point he transferred to the 1st/6th Battalion Gordon Highlanders.
The 1st/6th Battalion Gordon Highlanders was part of the 51st (Highland) Division. In 1916 the battalion saw action at the Somme, in 1917 at Arras, Ypres and Cambrai. In 1918 it was at the Somme again, then the Battle of the Lys.
In July, 1918, the battalion was enjoying a relatively quiet spell stationed at Oppy, near Arras. Sergeant Griffiths went missing on the 6th July, 1918. He is included in a list of missing Bridgnorth men in the Bridgnorth Journal of 19th October, 1918. His body was eventually recovered and he is now buried at Orchard Dump Cemetary, Arleux-en-Gohelle – very close to Oppy.
Percy wrote letters home which were published in the Bridgnorth Journal on 10 June, 1916, 3rd August, 1917, and 27th April, 1918
Serg Griffiths, S/13381, was awarded the Victory and British Medals.
WOUNDED [Bridgnorth Journal, February 3rd January, 1917] 13381 Private P. J. Griffiths, Gordon Highlanders, of 6 North Gate, Bridgnorth, is reported wounded.
MISSING [Bridgnorth Journal, Saturday 27th July, 1918] Mrs Griffiths, 6 North Gate, Bridgnorth, has received news privately that her son, 13381 Sergt. Percy J. Griffiths, C Co., 1/6 Gordon Highlanders, was missing on the 6th July. One of his officers writes: "On the afternoon of the 6th inst. he and I were on a daylight reconnaissance of the enemy's lines when we came unexpectedly upon an unknown enemy post. Leaving Percy behind, I crawled on ahead to find out more about it, but had to return without the information. Your boy asked me to be allowed to have a try, as he thought he saw a good position from which he could view the ground. I kept him in sight for about 10 minutes, when he was lost to my view. I never saw him again. A shower of enemy grenades fell near me. I remained crawling about the same spot for nearly half an hour, but could find no trace of him. My great and confident belief is that he had been spotted by the Hun and allowed to come within close range, when he was quietly taken prisoner. Unless he had changed his direction none of the bombs fell near him. Among the whole company he was a great favourite, and I know that I have lost my most promising and my best N.C.O. His ability, his keenness, and his cheery nature often, under very trying circumstances, were valuable assets to us all, and by none will his loss to us be more felt than by his Company Commander."
This memorial has mostly been compiled from official sources. It would be good to be able to expand it with more personal material - memories, stories, photos, etc. If you have any suitable material or any corrections please contact Greg. For news of updates follow @BridgnorthHeros on Twitter.