Joseph Jones (d. 1915)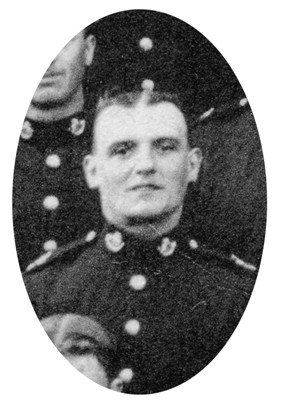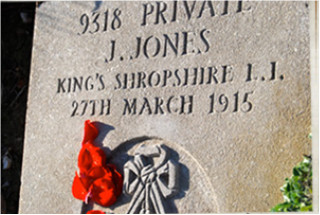 Photographs of Private Jones and his grave by kind permission of Stephen Moorhouse.
Joseph Jones was baptised at Quatford on 11th October, 1891. He was the son of Samuel Jones, labourer, and his wife Elizabeth. They lived at Sandybury. Samuel was a shepherd and the family moved around a lot, living at various times at Astley Abbots and Bromley.
Private Jones, 9318, 2nd Battalion King's Shropshire Light Infantry, went to France in December 1914. He died of wounds on 27th March, 1915 - a month during which the 2nd KSLI were engaged in several bouts of heavy fighting. He is buried in Wimereux Communal Cemetery. He was awarded the Victory and British Medals and the 1915 Star.
Stephen Moorhouse adds:
Joseph probably joined the army in 1909 or 1910. Following his training he was posted to the 2nd battalion, which was in India at the time. In August 1914, the battalion was in Trimulgherry, near Secunderabad, Andra Pradesh. It left the sub-continent on 13th October and, after embarkation leave, route marching and equipping for war, landed in France on 21st December. At the end of January 1915, 2nd KSLI entered the trenches near St. Eloi, where they remained until late March. On 14th March, following the detonation of a mine under the British lines, the Germans attacked at St. Eloi, capturing our positions. A counter-attack was ordered for the following day, but was unsuccessful. Over the next 7 days the battalion had two 48 hr. tours in the front line (plus the night of the 19th digging new trenches) and it was, probably, some time during the week following the 14th that Joe was wounded.
He was taken back down the line to hospital near Boulogne, where he obviously succumbed to his injuries and he is buried in the same cemetery (about 20 yds away) as John McCrae ('In Flanders Fields'), so the place gets plenty of visitors.
This memorial has mostly been compiled from official sources. It would be good to be able to expand it with more personal material - memories, stories, photos, etc. If you have any suitable material or any corrections please contact Greg. For news of updates follow @BridgnorthHeros on Twitter.