Lieutenant Colonel H E Welch DSO (1879 – 1918)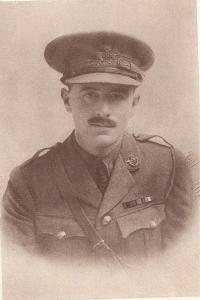 Harold Echalez Welch was born in Bedfordshire in 1879, the son of Alfred and Ellen. The family moved to East Castle Street, Bridgnorth, soon after Harold's birth.
Harold was educated at Lancing College and Oriel College, Oxford. He joined the army and served with the Middlesex Regiment in the Boer War.
In 1914 he rejoined the army. He landed in France on 23rd July 1915 as the Major commanding D Company of the 6th Battalion King's Own Shropshire Light Infantry. He saw action at the Battle of Loos on 25th of September, 1915 and, shortly afterwards, was appointed second-in-command of the battalion. In September 1916 he took over temporary command and he led the battalion through the latter part of the Battle of the Somme.
In September 1917, shortly before the Battle of the Menin Road, during the Third battle of Ypres, Welch was promoted to Acting Lieutenant Colonel. He led the Battalion during the battle and was awarded the DSO for his actions.
In November, the 6th Battalion took part in the battle of Cambrai. Its advance was held up by machine gun fire. "During the hours which elapsed before the advance could continue [Welch] moved about under fire regardless of danger, reconnoitring the situation, visiting his companies, and issuing orders. Owing to his efforts his battalion was eventually able to continue the advance successfully. His leadership and courage set a magnificent example to all ranks." These actions earned him a bar to his DSO.
On 29th March, 1918, during the German spring offensive, the battalion was in reserve when it came under heavy shelling. Welch was hit by a piece of shrapnel and died shortly afterwards. He was buried in Bouchoir New British Cemetery. His death was reported in the Bridgnorth Journal on 6th May.
Harold Welch was married to Lisalie Marie Maude in 1916. They lived at Cantreyn, Bridgnorth, a house which had previously been occupied by his grandfather.
In addition to the DSO and bar, Lt. Col. Welch was awarded the Victory and British Medals and the 15 Star.
DIED FROM WOUNDS [Bridgnorth Journal, Saturday 6th April, 1918] Information has this week been received stating that Lieut.-Colonel Harold E. Welch. D.S.O., 6th K.S.L.I., of Cantreyn, was killed in action in France on Good Friday. This gallant officer was recently awarded a bar to the D.S.O. He was exceedingly popular with the 6th Shropshires, and his death is a great loss to the regiment. Lieut-Colonel Welch, son of the late Mr. Alfred Wood Welch, and of Mrs Welch, East Castle Street, Bridgnorth, was born in 1879, and he served in the Boer War as a Captain in the Middlesex Regiment.
THE DEATH OF LIEUT-COL. WELCH [Bridgnorth Journal, Saturday 13th April, 1918] We last week recorded the death in action on the Western front of Lieut.-Colonel H. E. Welch, D.S.O., 6th K.S.L.I., and how he met his end is told in the following letter received by the widow from one of his fellow officers: "March 30th, 1918. Dear Mrs Welch, - I am most deeply grieved to have to write and tell you the sad news of the death of Col. Welch, which occurred while in action yesterday. He had just dismissed his officers, after having explained to them his plans for an attack, when a shell suddenly burst right at his feet, wounding him so badly that he died about 10 minutes afterwards. The C. of E. Chaplain was fortunately on the spot at the time, and at once rushed up and did all he could for the Colonel. This will, I know, be a great blow to you, but I should like you to know that it is also a very great blow to the Barralion, for he was loved and respected by officers and men alike. He was as brave as a lion, and never asked a man to go where he would not go himself. – a fact that all the men knew. Please accept my most heartfelt sympathy, and that of all the officers and men of the Battalion, in your great sorrow. As soon as I can get further details I will write you again, but the Battalion is at present in the line, and it is impossible to get much information as yet. – Believe me to be, yours very faithfully. S. F. THOMAS (6th K.S.L.I.)." The late Lieut.-Colonel Welch was highly esteemed in Bridgnorth both as a resident and a soldier, and during the War he threw his whole energy into Army work. It was his ambition to raise a company of local men, and this he accomplished, making a personal canvass of likely men in his own and the adjoining parishes, with the result that 120 gallant lads joined him in the 6th K.S.L.I. His rapid promotion and the rewards for his services were watched with interest, and when the news of his death on the battlefield was received in Bridgnorth there was a universal feeling of regret at the loss of so brave and genial an officer and neighbour. To endorse this the Mayor of Bridgnorth (Mr. A. Edge) sent a letter of condolence to Mrs. H. E. Welch on behalf of the Mayoress, himself, and the town generally, to which he has received the following reply: "Lenaghan, Enniskillen, April 6th. Dear Mr. Edge, - I was so proud and pleased at your very nice letter, showing me how much my husband was loved and respected in the town where he lived. I am much touched with the sincere sympathy sent to me in my great loss by you, the Mayoress, and the whole town. Will you thank them all for me. I feel you and all would like to see the letter from Major Thomas, 2nd in command of the Battalion, so I have copied it for you. It is just what we all knew he would be. Everyone who knew him felt the better for knowing him. You have worded it so nicely. Thank you so very much. – Yours sincerely, LISALIE WELCH."
This memorial has mostly been compiled from official sources. It would be good to be able to expand it with more personal material - memories, stories, photos, etc. If you have any suitable material or any corrections please contact Greg. For news of updates follow @BridgnorthHeros on Twitter.