Thomas Orde Lawder Wilkinson V.C. (1894 - 1916)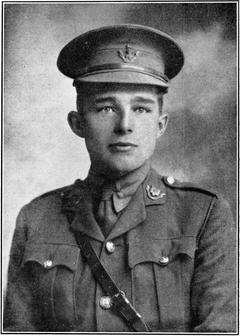 Thomas was born at Lodge Farm, Dudmaston, on 29th June, 1894. He was the son of Charles Orde Wilkinson and his wife Edith. Thomas was educated at Wellington College. He emigrated to Canada in 1912 where he worked as a surveyor.
On 23rd September, 1914, Thomas joined the 16th Battalion, Canadian Scottish at Valcartier. He did not travel to France with his batallion but made his own way to England and, on 23rd December, 1914, obtained a commission in the Loyal North Lancashire Regiment as a temporary Lieutenant.
Lieutenant Wilkinson was killed in action on 5th July, 1916 at La Boisselle, France (where - four days earlier - the British had exploded a huge mine under a German strongpoint during the opening minutes of the Battle of the Somme). Lt. Wilkinson was awarded the Victoria Cross for his actions. The citation reads:
For most conspicuous bravery. During an attack, when a party of another unit was retiring without their machine gun, Lieutenant Wilkinson rushed forward and, with two of his men, got the gun into action, and held up the enemy till they were relieved.
Later, when the advance was checked during a bombing attack, he forced his way forward and found four or five men of different units stopped by a solid block of earth, over which the enemy was throwing bombs.
With great pluck and promptness he mounted a machine gun on the top of the parapet and dispersed the enemy bombers. Subsequently he made two most gallant attempts to bring in a wounded man, but the second attempt he was shot through the heart just before reaching the man.
Throughout the day he set a magnificent example of courage and self-sacrifice. [London Gazette, 26 Sept. 1916, Sup. 29765 p.9418]
Lieutenant Thomas Orde Lawder Wilkinson is commemorated on the Thiepval Memorial to the missing of the Somme. In addition to the Victoria Cross, he was awarded the Victory and British War Medals and the 1915 Star. His death was reported in the Bridgnorth Journal
KILLED IN ACTION
[Bridgnorth Journal 12th August, 1916]
Official information has been received of the death of Lieutenant Thomas Orde Lawder Wilkinson, 7th Loyal North Lancashire Regiment, (second son of Mr. C. E. O. Wilkinson, at present at Comax, Vancouver Island, B.C.) The deceased officer was 22 years of age. He was born at the Lodge Farm, Dudmaston, Bridgnorth, on June 29th 1894. He went to Vancouver Island in 19[12. He] enlisted on August 4th, 1914, and came to England with the 1st Canadian Contingent. He was given a commission in the 7th Loyal North Lancashire regiment in January, 1915, and went with the regiment to France in the following year.
This memorial has mostly been compiled from official sources. It would be good to be able to expand it with more personal material - memories, stories, photos, etc. If you have any suitable material or any corrections please contact Greg. For news of updates follow @BridgnorthHeros on Twitter.