James France (1871 - 1918)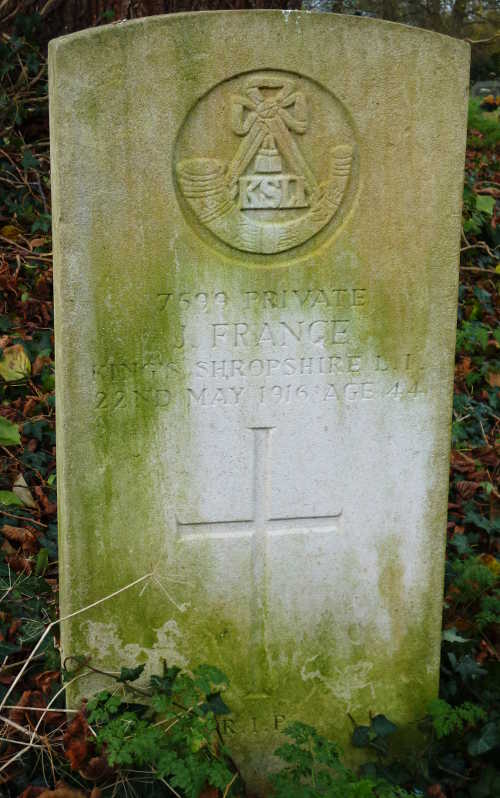 James was born at Alveley in 1871 and was baptised at the church on 30th April, 1872. He was the son of James France, a labourer at a stone quarry, and his wife, Mary Ann. James' younger sister, Agnes Louisa, married Robert James Bannister whose name is also on the Alveley War Memorial.
James worked for many years as a coal miner. He had served in the 2nd Battalion The Worcestershire Regiment for a while, but had bought himself out. He never married.
At the outbreak of war, James was quick to sign up - though he was 43 at the time. Possibly because of his age, James was posted to the 3rd Batallion King's Shropshire Light Infantry, a reserve battalion based at Pembroke Docks. In October, 1915, He was one of a draft of men sent to the 5th Battalion at Ypres. Unfortunately his health was not up to the demands of trench life and he was returned home to hospital before the month was out. After a spell in a Red Cross hospital at Chelmsford, Essex, James was discharged "no longer physically fit for war service" in April, 1916. He died on 22nd of May and is buried in Alveley Churchyard.
Private James France, 7599, KSLI, was awarded the Victory and British War Medals and the 1915 Star.
This memorial has mostly been compiled from official sources. It would be good to be able to expand it with more personal material - memories, stories, photos, etc. If you have any suitable material or any corrections please contact Greg. For news of updates follow @BridgnorthHeros on Twitter.