Dedicated to the memory of all the men and women of the Bridgnorth area who died during the two World Wars.
George Richards (abt 1893 - 1918)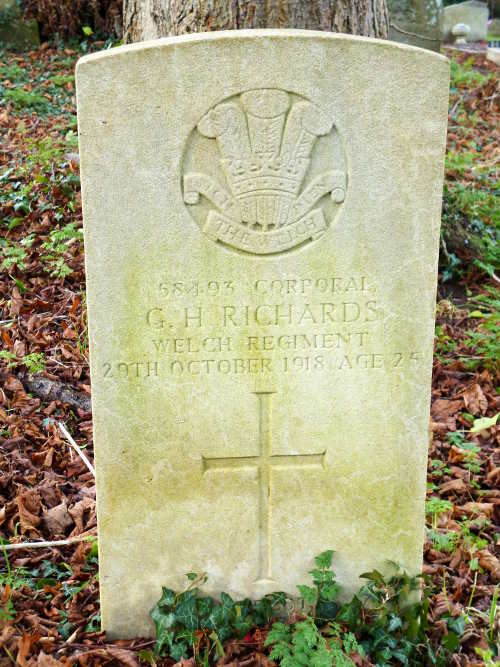 George Henry Richards was born in Kidderminster. He was the son of Thomas Richards, a coal miner, and his wife, Clara. The family appears to have lived in Alveley between about 1896 and 1908 before moving to Highley - where George followed in his father's footsteps, becoming a coal miner.
George first served with the 2nd Battalion Worcestershire Regiment, a regular army battalion - which may suggest that he was already a soldier at the outbreak of war (although he didn't go to France until June, 1915). After a spell with the Worcesters, he spent some time at a base depot - he may have been wounded - before being transfered to the 15th Battalion Welsh Regiment. He was wounded very close to the end of the war - possibly at the Battle of Cambrai (8-10 October, 1918). He died on 29th October, 1918 and is buried in Alveley Churchyard - which suggests that he died at a hospital in the UK.
Corporal George Richards, 58493 Welsh Regiment (formerly 17385 and 45865 Worcs. R.) was awarded the Victory and British War Medals and the 1915 Star.
CASUALTY LISTS
[Bridgnorth Journal, Saturday 21st December, 1918]
[includes:] Welsh R. Wounded: Corpl. G H Richards (Alveley)
This memorial has mostly been compiled from official sources. It would be good to be able to expand it with more personal material - memories, stories, photos, etc. If you have any suitable material or any corrections please contact Greg. For news of updates follow @BridgnorthHeros on Twitter.