A Staley Pte RFA
Albert Staley was born in Wombwell, Yorkshire in 1894. He was the son of David Staley, a colliery engineer, and his wife Mary Jane. David and Mary were from Derbyshire. They moved to Highley between 1901 and 1911.
In 1911 Albert was working as a fitter at the colliery. His younger brother John James became a colliery surveyor.
Albert served with 162 Brigade Royal Field Artillery (33rd Division). He went to France in July 1915. He would have taken part in the Battles of the Somme, 1916, and the Third Battles of Ypres, 1917. He was killed in action on 10th December, 1917, and is buried in Ypres Reservoir Cemetery, a cemetery mostly used by fighting units and field ambulances.
Gunner Albert Staley, 62705 RFA, was awarded the Victory and British War Medals and the 1915 Star.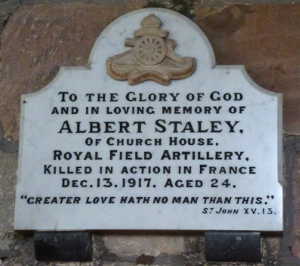 Memorial plaque in Highley Parish Church.
This memorial has mostly been compiled from official sources. It would be good to be able to expand it with more personal material - memories, stories, photos, etc. If you have any suitable material or any corrections please contact Greg. For news of updates follow @BridgnorthHeros on Twitter.