L/Corp E F Burton (1892 – 1915)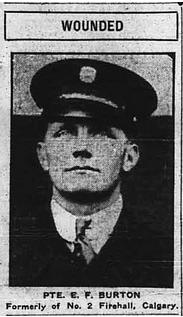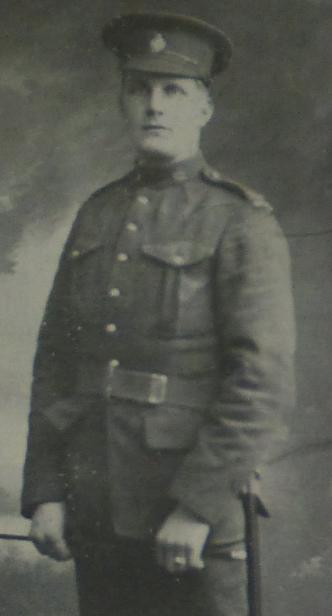 Eric Frank Burton was born in Coventry on 14th June, 1892. He was the son of Edmund T Burton, later Grocer & Provision Dealer of 34 High Street, Bridgnorth, and his wife, Annie. After he left Bridgnorth Grammar School he assisted in the family business for a while before emigrating to Canada.
Eric enlisted in Princess Patricia's Canadian Light Infantry in August, 1914 and came to France the next year. He died of wounds at 82nd Field Ambulance on the 9th May, 1915. His wounds were sustained in the defence of Bellewaerde Ridge during the Battle of Frezenberg in which the Patricias suffered huge losses. He is buried in Lijssenthoek Military Cemetery. The events of 8th May are described in detail in 'The Escape of a Princess Pat' by George Pearson (1918)
The wounding of L/Corp Burton, 1553, was reported in the Bridgnorth Journal of 5th June, 1915. He had a letter published in the Journal on 20th March, 1915.
ANOTHER OF CALGARY'S FIREMEN IS WOUNDED [Calgary Herald, 4 June, 1915.] Private E. F. Burton of No. 2 Hall, is on Last Night's Casualty List. Another of Calgary's fire fighters has been wounded. The latest addition to the already lengthy list of casualties that hangs in an honored position in "Cappy" Smart's private office, is that of Pte. E. F. Burton who was attached to No. 2 firehall. His name appeard in last night's list. He joined the first batch of recruits for the Princess Pats leaving with this contingent at the early part of the war. He is one of the most popular men in the fire department and well known in the city, having resided here for several years. His many friends will hope that his injuries are not of a serious nature.
BRIDGNORTH AND THE WAR [Bridgnorth Journal, Saturday 5th June, 1915] Official information has been received by Mr. E. T. Burton, 33 High Street, Bridgnorth, that his son, 1553, Private Eric F. Burton, Princess Patricia's Own L.I., Canadian Contingent, was wounded in action at the front on the 8th May. Unofficial news to the same effect was received three weeks ago, from a comrade who saw him after being wounded by shrapnel and he was sent to a base hospital.
OBITUARY [Bridgnorth Grammar School Magazine, July 1915] Lance-Corporal Eric Burton. Princess Patricia's Canadian L.I. The youngest of [the Old Boys to be killed this term] and therefore the most recent Old Boy was Eric Burton, the son of Mr. E. T. Burton, of Bridgnorth. He died at the early age of 23, just when he was standing on the threshold of life's wider sphere, with all the promise of a gallant manhood before him. We have been privileged to read letters from personal friends of his, lamenting his loss, and all that is said in them of his manliness, his gallantry, his sportmanship, his uprightness, his transparent honesty we can endorse from our own experience. He did not distinguish himself by his scholarship whilst at school, but the flame of his spirit burnt clear and, though where mischief was afoot there Eric was sure to be, yet his type of mischief was never of the kind that hides itself, but was essentially pure boyishness. Life called to him with many voices and he listened to them all. He was of the adventurous type and no doubt his occupation in Canada of fireman furnished him with that excitement which was the breath of his nostrils. The remark of his "chief" that he could always trust to Eric's help in a tight corner is significant. Equally characteristic is the story that he loaded himself one night with bombs and crept out on his own to bombard Germans with them. We were not surprised to learn that after he was wounded he lay in the trench making jokes, so that his comrades thought he was not seriously injured. He would go to the battle
"As blithe as a knight in his bridal array."
A fitting epitaph for him would be
"Here lies a most gallant gentleman."
This memorial has mostly been compiled from official sources. It would be good to be able to expand it with more personal material - memories, stories, photos, etc. If you have any suitable material or any corrections please contact Greg. For news of updates follow @BridgnorthHeros on Twitter.