L/Corp R C Gregory (1899 – 1918)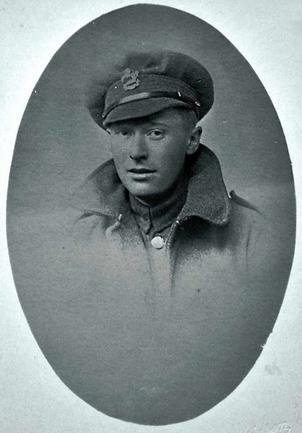 Reginald Charles Gregory was the son of William Gregory, a wine merchant's foreman, and his wife Edna Maria. He was born in Bridgnorth where the family lived in Wolverhampton Road and, later, Innage Road. Reginald was educated at Bridgnorth Grammar School.
Reginald served with the 1/7th Battalion Lancashire Fusiliers. Owing to his age, he is unlikely to have joined the battalion before it returned from Egypt in February 1917 for service on the Western Front. It saw action at Passchendaele and in the 1918 Somme Battles. L/Corp Gregory died of wounds on 5th September, 1918. He was buried in Varennes Military Cemetery, Somme, France.
L/Corp Gregory, 52857, was awarded the Victory and British Medals. His death was reported in the Bridgnorth Journal on 14 September, 1918.
DIED OF WOUNDS [Bridgnorth Journal, Saturday 14th September, 1918] Mrs. Richard Price, 75 High Street, Bridgnorth, has been officially informed that her son, Pte. Horace Cyril Price, died at 46 Casualty Clearing Station, France, on the 2nd inst., of wounds received that day. The deceased was aged 19 and the youngest son of the late Mr. Richard Price and Mrs. Price. Mr. and Mrs. Gregory, 13 Innage Lane, have received official information that their son, 52857 Pte. Reg Gregory, 1/7 Lancashire Fusiliers, died at No. 3 Canadian Casualty Clearing Station on the 5th inst., from wounds received in action the same day. In a sympathetic letter received from the Chaplain it appears that Pte. Gregory, who was within three days of his 19th birthday, was wounded in the head and thigh, and only lived a short time. He was buried in the Varennes Military Cemetery. Previous to joining up, Pte. Gregory was employed at Bridgnorth Garage and his genial and kindly nature at all times won him many friends.
This memorial has mostly been compiled from official sources. It would be good to be able to expand it with more personal material - memories, stories, photos, etc. If you have any suitable material or any corrections please contact Greg. For news of updates follow @BridgnorthHeros on Twitter.