Wallace Blake Jones
Wallace Blake Jones was born at Stanton Long in 1891. He was the son of Harvey and Sarah Jones, both certificated teachers at Brockton School, Stanton Long.
By 1911, Wallace was working as a clerk at the United Counties Bank.
Wallace served first in the Shropshire Yeomanry and then in the 10th Battalion King's Shropshire Light Infantry. He was killed in action in Palestine on the 10th March, 1918. He is buried in Jerusalem War Cemetery.
Acting Lance Corporal Wallace Jones, 230456 KSLI (formerly 2615 Shropshire Yeomanry) was awarded the Victory and British War Medals.
Wallace is commemorated by a plaque in Stanton Long Church: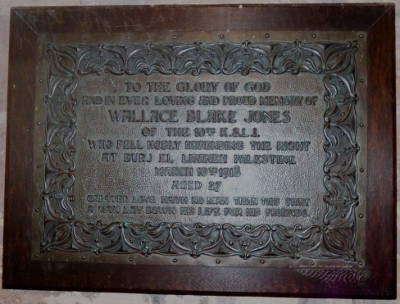 Memorial to Wallace Jones in Stanton Long Church.
TO THE GLORY OF GOD
AND IN EVER LOVING AND PROUD MEMORY OF
WALLACE BLAKE JONES
OF THE 10TH K.S.L.I.
WHO FELL NOBLY DEFENDING THE RIGHT
AT BURJ EL LISANEH PALESTINE
MARCH 10TH 1918
AGED 27
"GREATER LOVE HATH NO MAN THAN THIS THAT
A MAN LAY DOWN HIS LIFE FOR HIS FRIENDS"
This memorial has mostly been compiled from official sources. It would be good to be able to expand it with more personal material - memories, stories, photos, etc. If you have any suitable material or any corrections please contact Greg. For news of updates follow @BridgnorthHeros on Twitter.