Cecil J Preece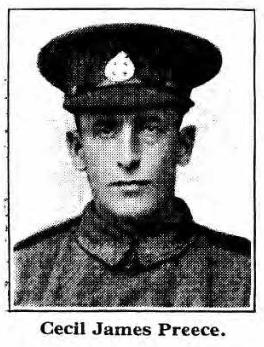 Cecil James Preece was born at Norton on 4th January, 1882. He was the son of Robert Preece, an estate labourer, and his wife Betsy. In 1901, aged 19, Cecil was living at Apley Hall where he was employed as a Hall Boy (domestic). Ten years later he had married and was living in London where he worked as an hotel waiter.
Cecil attested in November 1915 but was placed on reserve and was not called up until June 1916. He served with the 3rd Battalion The Rifle Brigade (The Prince Consort's Own). He was officially recorded as 'killed in action' although (as the quote below shows) he actually died from wounds. A barely legible entry in his surviving service record appears to record an admission to hospital with wounds on 2nd June, 1917. Cecil died on 9th June and is buried in Brandhoek Military Cemetery.
Rifleman Cecil James Preece, S/23398 Rifle Brigade, was awarded the Victory and British War Medals.
PREECE, CECIL JAMES, Rifleman, No. 23398. 3rd Battn. The Rifle Brigade (The Prince Consort's Own), s. of Robert Preece, Labourer, by his wife, Betsy ; b. Norton, co. Salop. 4 Jan. 1882: educ. Stockton School there; was an Hotel Waiter; enlisted 21 June, 1916 ; served with the Expeditionary Force in France and Flanders from 14 Nov. following. and died at No 4 London Field Ambulance, 9 June, 1917, from wounds received in action at Messines Ridge. Buried in Brandhoek Military Cemetery. His Coy. Quarter-master-Sergt. wrote : "He was a good fellow, and well liked by his officers and comrades, and will be much missed. He never grumbled, no matter what was asked of him, and he was always cheery and bright." He m. at Chiddingstone Parish Church, 27 April, 1908, Elizabeth Mary (121, Thrush Street. Walworth. London, S.E.), dau. of James Thomas Denton, and had a dau., Isobel Violet May, b. 2 Oct. 1912. [De Ruvigny's Roll of Honour]
This memorial has mostly been compiled from official sources. It would be good to be able to expand it with more personal material - memories, stories, photos, etc. If you have any suitable material or any corrections please contact Greg. For news of updates follow @BridgnorthHeros on Twitter.