A Bowen
Three Bridgnorth men of this name died during the war.
Alfred Bowen (1880 - 1915)
The list of The Fallen printed in the Bridgnorth Journal of 14th August, 1920, indicates that the committee setting up the War Memorial intended to commemorate Pte. Alfred Bowen of 2nd Battalion KSLI who had lived at 91 Cartway. The list gives no regimental number or date of death - which suggests that the compilers were not in close contact with Alfred's family.
This Alfred can probably be identified with the Thomas Alfred Bowen whose birth was registered in Bridgnorth in the final quarter of 1880. This Thomas, in turn, is probably the plain Alfred Bowen (born 26th October, 1880) who was baptised at St Mary Magdalene on 16th October, 1885. He was the son of John Bowen, a labourer, and his wife Martha. The family lived at 3 Foundry Yard but had moved to 91 Cartway by 1911.
Alfred joined the Militia in 1899, at which time he was working as a labourer in the Lee Spinning Mills, Bridgnorth. He served in the Militia between 1899 and 1905 and was embodied between May 1900 and July 1901.
Thomas Alfred Bowen served with the 5th KSLI. He died of wounds on 25th September, 1915. On the previous day the 5th KSLI were involved in a diversionary attack for the Battle of Loos in which 240 Other Ranks were wounded. It seems likely that Thomas Alfred was one of these. He is buried in Poperinghe New Military Cemetery.
Thomas Alfred Bowen, 7975 5th KSLI, was awarded the Victory and British Medals and the 1915 Star.
Arthur John Bowen (1897 - 1916)
Arthur John Bowen was born at Stoke St Milborough. His father, Benjamin, worked for the County Council as a roadman and his mother, Elizabeth, ran a shop in Burwarton where the family lived.
After leaving school, Arthur worked as a quarryman. He volunteered in July 1915 and served with the 5th Battalion King's Shropshire Light Infantry before being transferred to the 3rd Battalion North Staffordshire Regiment in July 1916. When he was killed in action on 31st August, 1916, (probably during the Battle of Delville Wood) he was serving with the 1st Battalion North Staffs. He is commemorated on the Thiepval Memorial.
Private Bowen, 28657, was awarded the Victory and British Medals.
OFFICIAL LIST OF CASUALTIES [Bridgnorth Journal 30th September, 1916] The following names of men of the North Staffordshire Regiment, whose relatives live in Bridgnorth or the district have appeared in the official list of killed:- Bowen 28657 A. J., and Lawley 28633 G. E.
Archibald Bowen (1881 - 1917)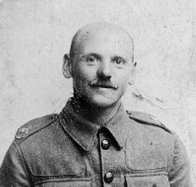 Archibald was the son of James and Martha Bowen of Friars Street. He moved away from Bridgnorth and worked as a compositor for the Oxford University Press. He served with the Oxfordshire and Buckinghamshire Light Infantry and died of wounds on 6th December, 1917. He is buried in Rocquigny-Equancourt Road British Cemetery, Manancourt. He is commemorated on the Oxford University Press Memorial in Oxford. Archibald Bowen 29022, Ox & Bucks L. I. was awarded the Victory and British Medals.
This memorial has mostly been compiled from official sources. It would be good to be able to expand it with more personal material - memories, stories, photos, etc. If you have any suitable material or any corrections please contact Greg. For news of updates follow @BridgnorthHeros on Twitter.