Lieutenant N L Smith (1884 - 1917)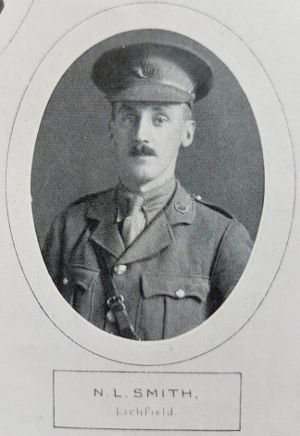 Norman Louis Smith was born in Longton, Staffordshire in 1884. His Father was Spencer Edward Spencer-Smith, a bank accountant, and his mother was Lizzie Singleton Smith. He married Alice Margaret Lightfoot in 1913.
Before the war Norman worked as a Banker's Clerk, at Lloyds Bank, Lichfield. Possibly he moved to work at a bank in Bridgnorth as his home address at the time of his death was in Oldbury Road.
He joined the Royal Warwickshire Regiment where he became a sergeant before being discharged to a commission in the 4th Battalion Shropshire Light Infantry on 12th September 1915. His promotion to Lieutenant was published in the 'London Gazette' on 25th January, 1916. He went to France at the end of August 1917 and was killed in action on 30th of December during the Action of Welch Ridge. He is commemorated on the Cambrai Memorial. The Regimental History records the events of 30th December:
[The Battalion] marched into the line on Welch Ridge, opposite Marcoing, on the 16th [December] ... This portion of the line was comparatively quiet at the time and nothing beyond the normal events of trench life happened until December 30th when a heavy bombardment, which severed all telephonic communication, was opened on the front trenches at 6 a.m.
ACTION OF WELCH RIDGE
At about 9 a.m. a runner reached Battalion Headquarters from the front line with a message to the effect that the trenches held by the unit on the right had been rushed, and that a defensive flank had been formed by the right company (D) of the 4th K.S.L.I.
At about 10 a.m. the Brigade Major arrived with information that the counter-attack battalion, the 1st Artists' Rifles, was moving up to retake the lost trenches and that the two support companies were to co-operate with them.
The initial counter-attack was only partially successful. The situation was eventually restored owing to the exceptionally gallant and resourceful action of Lieut. G. H. Morley. This officer had only returned from a bombing course the night before, and it was actually the first time that he had been in the line. Heading a party consisting of about 10 men of A Company, he made his way along the captured trench, bombing the Germans back yard by yard until his stock of bombs was exhausted. He had, however, noticed a dump of German stick bombs and, sending one of his party back for a supply, he continued his advance until the trench was completely cleared of the enemy, large numbers of whom were killed.
Lieut. Morley was unfortunately killed by a stray bullet after the completion of his task on his way back to Battalion Head-quarters. For his gallantry and successful initiative he was recommended for the V.C., and though this posthumous honour was not awarded, his gallantry was recorded in despatches.
In the afternoon Colonel Garrett decided to reinforce the front line with the support companies and, after a few half-hearted attempts, the resulting enemy attack died away and the shattered trenches were restored and the wire repaired.
In addition to Lieut. Morley the battalion suffered a severe loss by the deaths of Lieuts. W. Atherton and N. L. Smith, two of the most efficient and popular subalterns. For their gallantry in this most successful action no fewer than 17 N.C.O.'s and men received the D.C.M. or M.M. [Wood: History of the KSLI in the Great War pp 108-9.]
Lieutenant Smith was awarded the Victory and British Medals.
LIEUT. NORMAN L. SMITH KILLED IN ACTION [Bridgnorth Journal, Saturday 12th January, 1918] Yesterday (Friday) week Mrs. N. L. Smith, of Oldbury Road, Bridgnorth, received official information that her husband, Lieutenant Norman L. Smith, of the King's Shropshire Light Infantry, had been killed in action while leading his men. He was the youngest son of Mr. and Mrs. Spencer Smith, of Lloyds Bank House, Heath Town. When war broke out Lieutenant Smith was at the Lichfield branch of Lloyds Bank Ltd., and he had been previously at their Bridgnorth Branch. He joined the 2nd City of Birmingham Battalion, under Lieutenant-Colonel Barnsley, and worked up to the rank of sergeant. He afterwards obtained a commission in the Shropshires. For a time he was Acting Adjutant of the Shropshire Volunteers. He desired to go on active service, but being an excellent instructor was retained at home for some time. A further application last summer to be relieved of duties at home was more successful, and he was attached to the 1/4 Shropshire Battalion. He was regarded as a brave and fearless officer, popular with all ranks. When residing in Bridgnorth some years ago he belonged to the F Company. He was keen on athletics and an active member of the local football, hockey and rowing clubs. He also belonged to the Amateur Dramatic Society, and took part in some of the most successful performances. On May 13, 1913, he married Miss Alice M. Whitefoot (daughter of Alderman Whitefoot, of Bridgnorth), for whom and their two little sons the greatest sympathy is felt. His Colonel in a letter of condolence to the widow says: "It is with the greatest regret that I write to tell you that your husband and my friend died on the 30th in the gallant discharge of his duty, leading his men to the attack against the enemy. Duty was his watchword, and his unfailing cheerfulness had endeared him to all his brother officers, as well as to his men, and we shall all miss him very much. I am desired by all his comrades to convey to you and yours an expression of our heartfelt sympathy with you in your terrible loss. . . . . The knowledge that his gallantry and that of the battalion has earned the thanks of the Divisional and Corps Commanders, and which thwarted the attempts of the enemy, will be some comfort to you, though I know that nothing can replace your irreparable loss." - I am, with renewed sympathy, yours sincerely, ARTHUR B. GARRETT, Lieut.-Col., Commanding 4th King's Shropshire Light Infantry."
Thanks to David McNay for providing the photo of Lieut. Smith from the Lloyds Bank Memorial Album for the First World War.
This memorial has mostly been compiled from official sources. It would be good to be able to expand it with more personal material - memories, stories, photos, etc. If you have any suitable material or any corrections please contact Greg. For news of updates follow @BridgnorthHeros on Twitter.