George Higgins (1878-1917)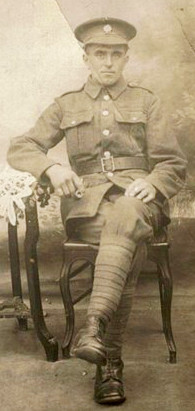 George Higgins was born in Bridgnorth on 29th March, 1878 where he was baptised (at St Leonard's Church) on 5th May. He was the son of George Higgins, a bricklayer's labourer, and his wife Sarah. George's father had been 42 and a widower when he married 36 year-old Sarah in 1872. George was the only child of their marriage. George senior died in 1882 and Sarah worked as a laundress to make ends meet.
In 1901, George was working as a groom at Rock in Worcestershire and by 1911 he was employed as a domestic coachman. He married Ethel Walton in 1905. They had two children, Gladys and Stanley. The family lived at Meole Brace; in 1911 their address was 2 Eaton View but Ethel later moved to "Ashleigh", New Road.
George served with the Motor Transport section of the Army Service Corps. He died in a road accident in 1917 while with the 611th Mechanical Transport Company attached to the 124th Siege Battery of the Royal Garrison Artillery. He is buried in Aubigny Communal Cemetery Extension, France.
FATAL ACCIDENT TO A BRIDGNORTH SOLDIER.
[Bridgnorth Journal, 14th April, 1917.]
Information has been received of the death of Private G. Higgins, M.T., A.S.C., son of the late Mrs. Higgins, of Moat Street, Bridgnorth, [the] result of an accident in France on the 23rd [ult.] He was knocked down by a motor lurry in the dark and seriously injured, and died before reaching hospital. He was 38 years of age, and had been at the front since July 1916. His Commanding Officer wrote to the widow : "A general favourite in the column, he will be sadly missed by us alló-a good soldier and a hard worker and a man who never 'groused' despite the trying times we have all been through since being in France. It may be some small consolation for you to know that he suffered no pain, and passed away quite peacefully. His funeral was conducted by a C. of E. Army Chaplain at Aubigny Military Cemetery. The whole of the men on the column wish me to express to you their heartfelt sympathy, and all of us mourn the loss of a good comrade. [Thanks to Gwynne Chadwick for drawing this to my attention.]"
Private George Higgins, M2/188294 ASC, was awarded the Victory and British War Medals. His name appears on the War Memorial at Meole Brace, Shrewsbury.
Photograph of George Higgins courtesy of Andrew Askew.
This memorial has mostly been compiled from official sources. It would be good to be able to expand it with more personal material - memories, stories, photos, etc. If you have any suitable material or any corrections please contact Greg. For news of updates follow @BridgnorthHeros on Twitter.