F Head (1891 – 1916)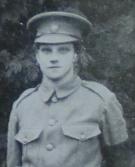 Frederick Head was the son of Alfred, a joiner, and his wife, Mary Elizabeth. They lived in Whitburn Street. Frederick was educated at Bridgnorth Grammar School and became a hardware clerk at Jones & Co., Waterloo House.
Frederick joined the Shropshire Light Infantry in November 1915. He was transferred to the 1st Battalion North Staffordshire Regiment in July 1916, shortly before going overseas.
Frederick was killed in action on 31st August, 1916 during the Battle of the Somme. He is commemorated on the Thiepval Memorial.
Private Head, 28655, was awarded the Victory and British Medals. His death was reported in the Bridgnorth Journal on 23rd September, 1916.
ANOTHER BRIDGNORTH BOY'S DEATH [Bridgnorth Journal 23rd September, 1916] Mrs. Alfred Head, 22 Salop Street, has received official information that her only son, Pte. Frederick Head, 1st Batt. North Staffords was killed in action in France on the 31st August. The deceased soldier before joining up was for upwards of nine years in the employ of Messrs. W. Jones and Co., Waterloo House, as clerk, and it may be noticed that he met his death fighting for his country within the short space of five months from leaving his civilian employment. Pte. Head was 24 years of age and single, and first of all attached to the Shropshires, afterwards being transferred to the Staffords. Before going out he was a member of the Volunteer Training Corps.
OLD BOY NOTES [Bridgnorth Grammar School Magazine, December 1916] There is a heavy list of Casualties among our Old Boys this term. Five more names have to be added to the ever-lengthening list of those who have fallen on the Field of Battle: Pte. T. H. Robins, Pte. F. Head, 2nd Lieut. A. E. Boucher, Sgt. R. B. Findon, Pte. H. Walker. They have made the supreme sacrifice and are at rest, but we shall not forget, and their names will live in our annals as long as there is a Bridgnorth Grammar School.
OBITUARY [Bridgnorth Grammar School Magazine, December 1916] Private F. Head (1st North Staffs.) is another of our Old Boys who has died on the battle-field. He was out in France only four weeks, two of which were spent at the base. Up to the present we have little news beyond the fact that he was killed in action and died doing his duty.
When at School he was of a retiring disposition, content to go quietly about his work. He was not over strong physically, and so was unable to take a very active part in the outside life of the School. After finishing his school career, he entered the firm of Messr.s Jones & Co., Waterloo House, and was engaged there until the time of his enlisting. We know that he was esteemed by all those who had intercourse with him and who now mourn his loss. Words are weak on such occasions as these. We can only offer our most sincere sympathy.
This memorial has mostly been compiled from official sources. It would be good to be able to expand it with more personal material - memories, stories, photos, etc. If you have any suitable material or any corrections please contact Greg. For news of updates follow @BridgnorthHeros on Twitter.