W Meredith (listed as 'N Meredith' on the Station Road Memorial.)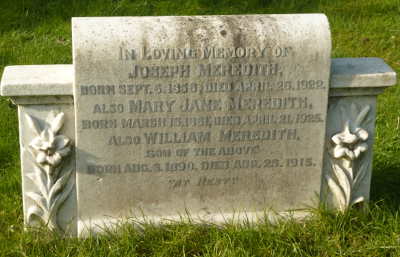 William Meredith was born in Wolverhampton in 1890. He was the son of Joseph Meredith and his wife Mary Jane. William was baptised at St Mark's, Wolverhampton, on 21st August, 1890. His father's occupation is given as Drayman.
By 1901 the family had moved to Oaken Lawn, Codsall, where Joseph traded as a potato dealer. Ten years later, Joseph was working as a haulier on his own account and William appears to have been assisting him in the business.
William's older brother Ernest worked as a packer for the Great Western Railway at Wolverhampton Station and it seems that William followed in his footsteps. A membership roll of the National Union of Railwaymen shows that William was employed as a packer at Wolverhampton in March 1915 - shortly before he enlisted for the army.
William joined the 116th Railway Company of the Royal Engineers. He died while still in training. A report in the Staffordshire Advertiser of 4th September 1915 gives the details:
MILITARY FUNERAL AT CODSALL The remains of Pte. William Meredith, Royal Engineers, son of Mrs. Meredith. of Ivy House, Oaken Lawn. Codsall, were laid to rest in Codsall Churchyard on Monday afternoon, the Vicar (the Rev. C. G. Barr) officiating. The obsequies were attended by a large number of friends. Pte. Meredith's death took place under tragic circumstances. He was over home on special vaccination leave from Aug. 21 to Thursday of last week, on which day he was returning to his regiment at Longmoor Camp, Hants., in company with Pte. Fred Hargroves of Oakengates, by Great Western Railway. Just after passing Leamington, he suddenly collapsed and expired. On the arrival of the train at Paddington, the unfortunate circumstance was duly reported. An inquest was held at Paddington station on Saturday, when a verdict was returned in accordance with the medical evidence that the cause of death was bronchial pneumonia. The body arrived from London at Codsall per the 2 12 p.m. train on Monday, and was met by an escort of the South Staffords. who placed the Union Jack on the coffin and slowly marched to the church, together with several members of the Great Western Railway staff in uniform. The Organist (Mr. Booth) played the "Dead March" as the cortege entered the church and "O Rest in the Lord" on its leaving. The military fired five volleys over th grave at the close of the Burial Service. The deceased, who before the war was employed on the Great Western Railway, was to have been married in a month or so. In a letter to deceased's mother, Major C. W. Thomas says :- "I deeply regret having to write to you and tell you of the death of your son. Pte. W. Meredith, of which you will have heard already. I was on the train from Birmingham to London this afternoon, and shortly after leaving Leamington I was asked by a soldier to go and look at his friend, who seemsd to be in some kind of fit. I at once went to the compartment, but your son had evidently died some moments before. I did all I could, but it was only too true that he had passed beyond human aid. I made careful inquiries and could not find that he had shown any sign of illness: in fact, he was talking through the window at Leamington station. I do not know what the doctor's opinion was at the inquest at London, but I thought it was due to heart failure. I know it will be a great blow to you, and that words seem very empty things at such a time. But I should like to assure you of my sympathy, and also to say that you have good reason to be proud of your son, who has died on his country's service just as truly as if he had fallen in battle, and deserves honour as a brave man who was ready to serve his country in time of need."
Private William Meredith, 105605, was buried in the graveyard at Codsall church. He had served for less than six months and as he had not entered a war zone he was not entitled to any medals.
This memorial has mostly been compiled from official sources. It would be good to be able to expand it with more personal material - memories, stories, photos, etc. If you have any suitable material or any corrections please contact Greg.