South Staffordshire War Memorials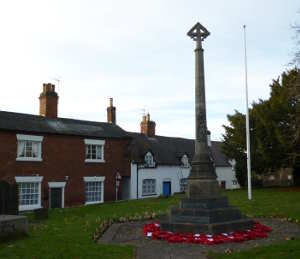 Dedicated to the memory of all the men and women of the South Staffordshire area who died during the two World Wars.
G Newman M.M. & bar.
George Newman was born in Brewood in 1895. He was the son of George Newman, a carpenter, and his wife Marianne. The family lived at High Green Brewood. George senior and Marianne were Staffordshire born but had lived in Brooklyn, New York, USA. In 1911, George junior was an apprentice carpenter.
George enlisted in the opening weeks of the war (probably in September 1914). He served in the Royal Engineers, first as a Pioneer, then as a Sapper. At the time of his death he was serving with the 12th Divisional Signals Company.
George died of wounds on 30th November, 1917 - possibly sustained during the Battle of Cambrai (which had begun on November 20th). George is commemorated on the Cambrai Memorial at Louverval.
48242 Sapper George Newman, Royal Engineers, was awarded the Military Medal (London Gazette 19 Sept. 1916) and bar (London Gazette 17 July 1917). He was also awarded the Victory and British War Medals and the 1914/15 Star.
This memorial has mostly been compiled from official sources. It would be good to be able to expand it with more personal material - memories, stories, photos, etc. If you have any suitable material or any corrections please contact Greg.