Laurence Wakelam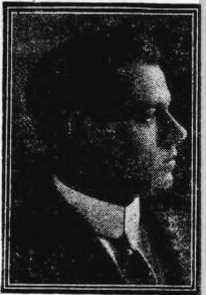 Laurence Bernard Osborne Wakelam was born on 7th October, 1889 at Brewood. He was the son of Joseph Wakelam, Cab Proprietor, and his wife, Sarah Elizabeth. The family lived at High Green, Brewood. After the death of Joseph in 1894 Laurence and his mother moved to Nottingham to live with Laurence's older brother Griffin. By 1911, Laurence and Sarah were living at 10 Curtis Grove, Wilford Road, Nottingham where Laurence was working as a salesman in the curtain trade.
In 1912 Laurence emigrated to Canada, leaving Liverpool on the SS Manitoba on 2nd August. He settled in Toronto where he was joined by his mother. By the time of his enlistment in the Canadian Infantry in September 1914 he was working as an electrician.
When he signed up, Laurence declared that he had previously served four years in the Royal Horse Artillery. He served with the 17th Battalion, Canadian Infantry, travelling back to England in October, 1914. He died of pneumonia in hospital in Nottingham on 15th February 1915 - before his unit was posted to France. He is buried in Nottingham General Cemetery.
A CANADIAN SOLDIER - NOTTINGHAM MAN'S DEATH IN HOSPITAL The death has taken place in the Nottingham General Hospital, where he had been suffering from pneumonia, of Lawrence Wakelam of the Canadian Auto-Gun Battery. The deceased, who was 25 years of age, was well known in the athletic circles of Nottingham before he went out to Canada, being a member of the Britannia Rowing Club, and of the Y.M.C.A. Swimming Club, as well as the Nottingham and Notts. Harriers. He won medals for 100 yards to one mile in swimming and for seven and ten miles in running. As a member of the Notts. Royal Horse Artillery he gained his gunlayer's badge and won his way to the boxing championship at Wiseton at the first camp held there, having to retire through his thumb becoming dislocated. Whilst in West Toronto, Canada, where he was employed in the electric signal department of the Canadian Pacific Railway, he earned the medal of the Royal Humane Society. When on duty he saw a runaway horse drawing a sleigh containing two girls right in front of an on-coming train. He dashed to the horse's head, clutched the bridle, and was just able to turn the sleigh alongside the track over the cattle guard before the train passed. He had some of his ribs broken in effecting the rescue. [Nottingham Evening Post, 17 Feb 1915.]
This memorial has mostly been compiled from official sources. It would be good to be able to expand it with more personal material - memories, stories, photos, etc. If you have any suitable material or any corrections please contact Greg.