G. Egan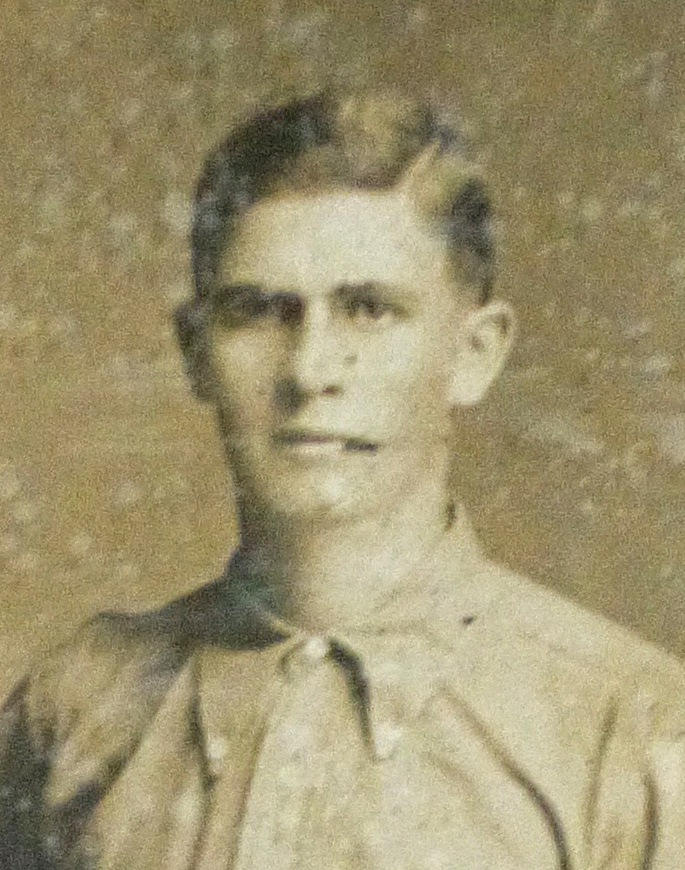 George Sydney Egan was born at Chelmarsh where he was baptised on 1st April, 1895. He was the son of John Egan, a collier, and his wife, Gertrude. In 1901 they lived at Tan House Cottages, Chelmarsh, but by 1911 they had moved to Hampton Loade.
George's younger brother Albert Leonard is also commemorated on the Chelmarsh War Memorial.
George worked as a horse driver at the colliery before joining the King's Shropshire Light Infantry. He was later transferred to the Machine Gun Corps with whom he went to Mesopotamia. He died in action in February, 1917. The records disagree about the date: the Commonwealth War Graves Commission says the 22nd but Soldiers Died says 24th. He is commemorated on the Basra Memorial.
The 24th February, 1917 saw the Battle of the Shumran Peninsula - a major step during the advance on Bagdad. The official despatch describes the day's events:
Early on February 24th our troops in the Shumran Bend resumed the advance, supported by machine guns and artillery from the right bank.
The enemy held on tenaciously at the northeast corner of the peninsula, where there is a series of nalas in which a number of machine guns were concealed, but after a strenuous fight, lasting for four or five hours, he was forced back, and two field and two machine guns and many prisoners fell into our possession.
Further west our troops were engaged with strong enemy forces in the intricate mass of ruins, mounds, and nalas which lie to the northwest of Shumran, and rapid progress was impossible, but toward evening the enemy had been pushed back to a depth of 1,000 yards, although he still resisted stubbornly.
While this fighting was in progress the cavalry, the artillery, and another division crossed the bridge. The cavalry attempted to break through at the northern end of the Shumran Bend to operate against the enemy's rear along the Baghdad road, by which airplanes reported hostile columns to be retreating, but strong Turkish rearguards entrenched in nalas prevented them from issuing from the peninsula.
During this day's fighting at Shumran heavy losses had been inflicted on the enemy, and our captures have been increased in all to four field guns, eight machine guns, some 1,650 prisoners, and a large quantity of rifles, ammunition, equipment and war stores. The gunboats were now ordered upstream from Falahiyeh, and reached Kut the same evening.
While these events were happening at Shumran, Lieut.-Gen. Cobbe cleared the enemy's sixth line at Sannaiyat, the Nakhailat, and Suwada positions, and the left bank as far as Kut without much opposition.
The capture of the Sannaiyat position, which the Turks believed to be impregnable, had only been accomplished after a fierce struggle, in which our infantry, closely supported by our artillery, displayed great gallantry and endurance against a brave and determined enemy. The latter had again suffered severely. Many trenches were choked with corpses, and the open ground where counter-attacks had taken place was strewn with them. [from Sir Frederick Maude's official despatch concerning Operations Leading to the Fall of Baghdad, December 1916-March 1917]
Private George Sydney Egan, 61012, Machine Gun Corps (formerly 2313, KSLI) was awarded the Victory and British War Medals.
Thanks to Lyn Adams, the granddaughter of George's brother Jack, who provides a transcript of the last letter written by George to her grandfather. The letter is written in pencil and is now fading; it provides an interesting snapshot of the conditions in Mesopotamia:
Dear Jack, I am writing a line or two to let you know I am in the pink as I hope you are. The one thing that troubles me here is the want of letters. I haven't had one for months, I suppose they get lost on the way, but we ought to get some soon now as they are sure to have my right address at home now. I think that the worst of the wet season is over now and the sun is getting through which will hopefully dry the mud up. I expect you get plenty of mud there so I need not tell you what it is like. We are having a pretty quiet time now seeing we are in the trenches nearly as quiet as Singapore but not as nice. This country is too much like a tennis lawn with the grass burnt off. Well, Jack if you don't hear from home I can't tell you anything as I have had a letter from you since a letter from there, and that is two months ago. I expect they are going on alright though, and Dad better. He was ill the last letter I had but that is a long while ago. We get some money here about every month but it is a days march to the canteen, but all the same we get there and feed like lords for a day or two. I get pretty well of cigarettes and tobacco so don't have to buy many of them Well we can't buy them sometimes. Well Jack I have to be sparing of paper that is the reason I have wrote on both sides so you will excuse that. from your affectionate brother George
This memorial has mostly been compiled from official sources. It would be good to be able to expand it with more personal material - memories, stories, photos, etc. If you have any suitable material or any corrections please contact Greg. For news of updates follow @BridgnorthHeros on Twitter.