Dedicated to the memory of all the men and women of the Bridgnorth area who died during the two World Wars.
Alveley: St Mary, Church of England - War Memorial - World Wars I & II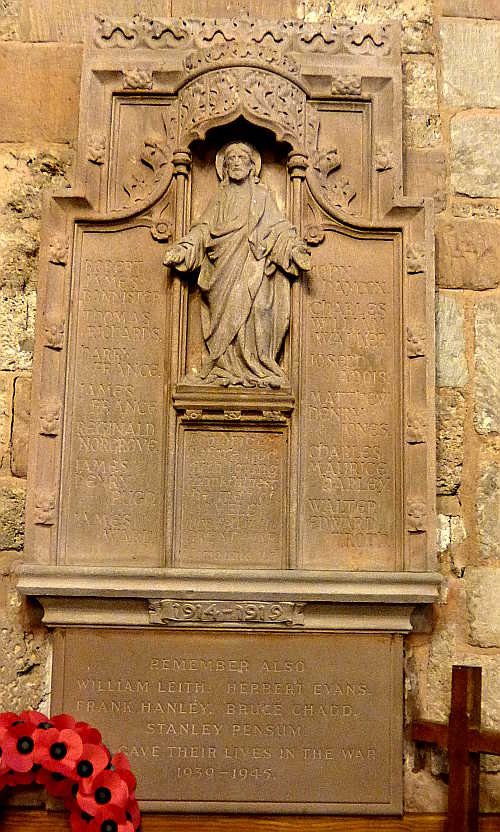 The memorial in Alveley church lists thirteen men in the order in which they died. The memorial was unveiled on 28th August, 1921 by General A. F. Gatliff* and was designed and executed in red Alveley stone by Messrs. R. Bridgman & Sons of Lichfield.
Remember before God, with loving thankfulness, the men of ALVELEY who fell in the GREAT WAR. "Come unto Me."
*The Vicar's brother and a General in the Royal Marines during the South African War.
Alveley: Village Memorial Hall - War Memorial - World Wars I & II
Composite list in alphabetical order:
1914 - 1918
Joseph Addis Robert James Bannister Harry France James France Charles Maurice Harley John Haycox Matthew Henry Jones Reginald Norgrove James Henry Pugh George Richards (Village Hall only)
Thomas Richards Walter Edward Troth Charles William Walker James Ward
Remember also
William Leith Herbert Evans Frank Handley Bruce Chadd Stanley Pensum
Who gave their lives in the War
1939 - 1945
Not on either memorial:
1914 - 1918
Harry Walter Belcher Arthur Churchyett John C W Gatliff John Wainwright
This memorial has mostly been compiled from official sources. It would be good to be able to expand it with more personal material - memories, stories, photos, etc. If you have any suitable material or any corrections please contact Greg. For news of updates follow @BridgnorthHeros on Twitter.