Dedicated to the memory of all the men and women of the Bridgnorth area who died during the two World Wars.
Bridgnorth: St Mary Magdalene, Church of England - War Memorial - World War I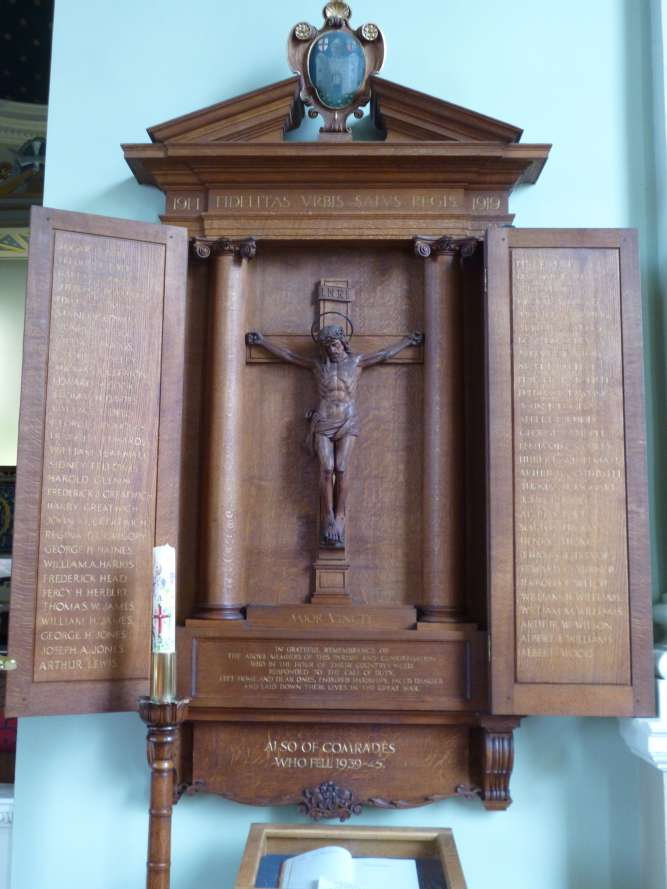 Bridgnorth: St Mary Magdalene, Church of England - War Memorial - World War I
Carved oak tryptich. The centre a carved crucifix between two pillars. The names of the dead are listed approximately alphabetically on the left- and right-hand panels.
The memorial lists five men who are not included on the civic memorial in Castle Gardens (Fearnhall, Ratcliffe, Rogers, W H and W M Williams).
Left Hand Panel
EDGAR A BALL FREDERICK BALL HARRY BEDDOES J H PERCY BEAMAN EDWIN A BOWEN STANLEY BOWEN SIDNEY J BRIGGS WILLIAM BRIGGS W JOHN CASELEY THOMAS R CLEATON EDWARD H COOK THOMAS H DAVIES WALLACE L DELO GEORGE S DOUGLAS FRANCIS L EDWARDS WILLIAM FEARNHALL SIDNEY FELLOWES HAROLD GLENN FREDERICK J GREATWICH HARRY GREATWICH JOHN M GREATWICH REGINALD C GREGORY GEORGE H HAINES WILLIAM A HARRIS FREDERICK HEAD PERCY H HERBERT THOMAS W JAMES WILLIAM H JAMES GEORGE H JONES JOSEPH A JONES ARTHUR LEWIS
Right Hand Panel
BERTIE LEWIS HARRY C LEWIS JACK LEWIS GEORGE T LLOYD JACK MAINWARING ARTHUR J OAKLEY RONALD OXLEY ALBERT E PARTON ALBERT J PREECE EDWARD RATCLIFFE FREDERICK RAWLINGS JOHN L ROGERS ALBERT E RUDD GEORGE SANDELLS BENJAMIN SANKEY HUBERT SMALLMAN ARTHUR H S SOUTHWELL THOMAS H TAGGART JOHN E TODD ALFRED TOFT WALTER THOMAS HENRY THOMAS J HARRY L TREVOR EDWARD C TURNER HAROLD E WELCH WILLIAM H WILLIAMS WILLIAM M WILLIAMS ARTHUR W WILSON ALBERT J WILLIAMS ALBERT WOOD
This memorial has mostly been compiled from official sources. It would be good to be able to expand it with more personal material - memories, stories, photos, etc. If you have any suitable material or any corrections please contact Greg. For news of updates follow @BridgnorthHeros on Twitter.