Dedicated to the memory of all the men and women of the Bridgnorth area who died during the two World Wars.
Stanton Long Parish Church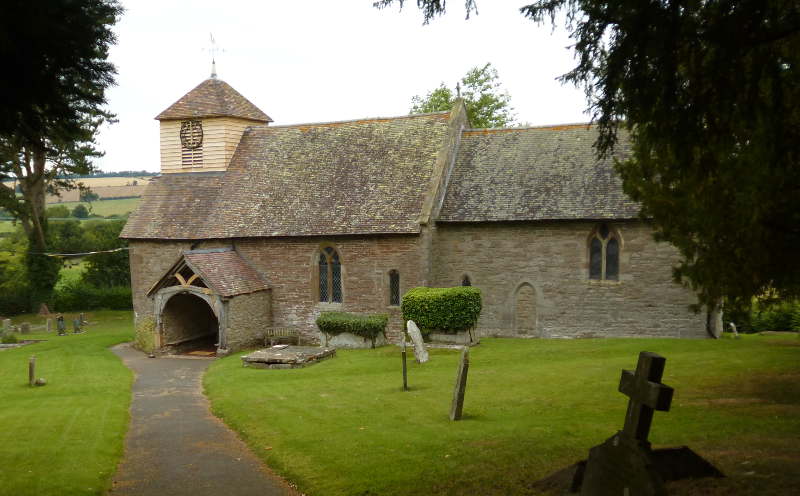 A marble tablet in the church with the names of nine men from the First World War listed in order of date of death. The names of two men from the Second World War have been added at the bottom of the tablet.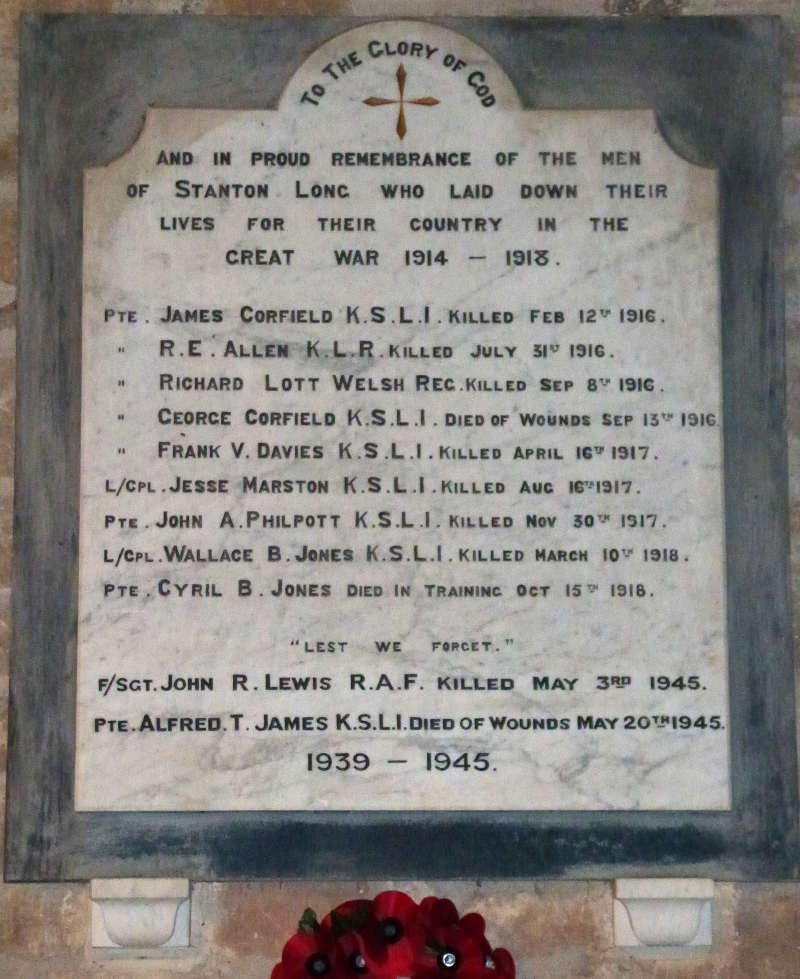 To the Glory of God
and in proud remembrance of the men
of Stanton Long who laid down their
lives for their country in the
Great War 1914 - 1918

Pte James Corfield K.S.L.I. killed Feb 12th. 1916
Pte R. E. Allen K.L.R. killed July 31st. 1916
Pte Richard Lott Welsh Reg. killed Sep 8th. 1916
Pte George Corfield K.S.L.I. Died of Wounds Sep 15th. 1916
Pte Frank V Davies K.S.L.I. killed April 16th. 1917
L/Cpl Jesse Marston K.S.L.I. killed Aug 16th. 1917
Pte John A Philpott K.S.L.I. killed Nov 30th. 1917
L/Cpl Wallace B. Jones K.S.L.I. killed March 10th. 1918
Pte Cyril B. Jones Died in Training Oct 15th. 1918

"Lest we forget"
F/Sgt John R. Lewis R.A.F. killed May 3rd. 1945
Pte Alfred T. James K.S.L.I. Died of Wounds May 20th. 1945
1939 - 1945

The memorial is unusual in recording the dates of death of the men commemorated. It should be noted that the dates given sometimes differ slightly from those recorded in official sources.
This memorial has mostly been compiled from official sources. It would be good to be able to expand it with more personal material - memories, stories, photos, etc. If you have any suitable material or any corrections please contact Greg. For news of updates follow @BridgnorthHeros on Twitter.