Dedicated to the memory of all the men and women of the Bridgnorth area who died during the two World Wars.
Worfield: Village Green - War Memorial - World War I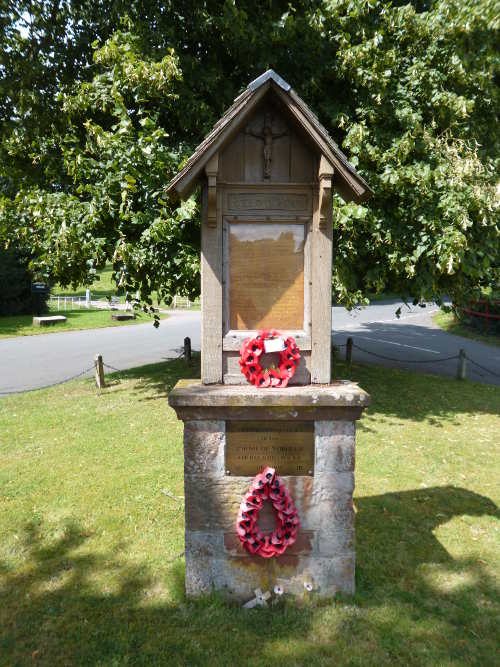 Worfield: St Peter, Church of England - War Memorial - World War I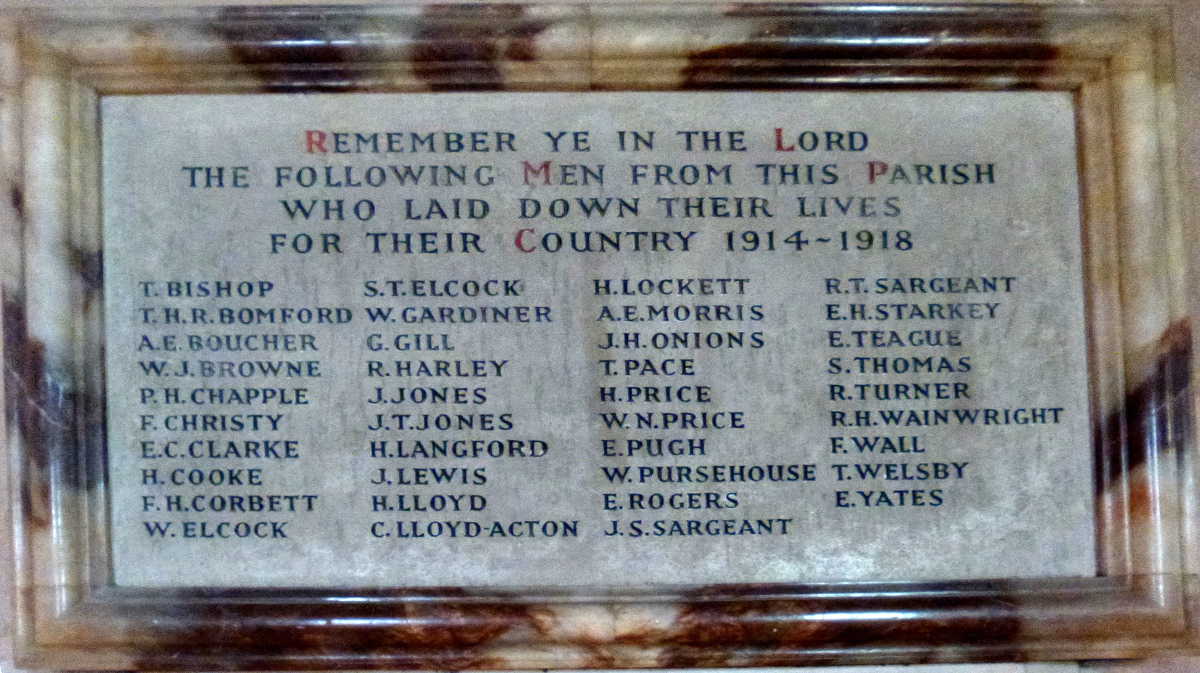 I have found two memorials at Worfield. The first is on a small green at the corner of the road which leads through the village and the road which leads up to the church. It lists forty-three men by forename and surname. The second is a marble panel in the church which names thirty-nine men by initial and surname. Both memorials list the men in alphabetical order.
The following is a composite list.
Thomas Bishop Thomas H R Bomford Alec E Boucher William J Browne P Henry Chapple Frank Christy E Cedric Clarke Harry Cooke Frank H Corbett James Davis (not on church memorial) William Elcock Samuel T Elcock Wyburn Evans (not on church memorial) William Gardiner George Gill Richard Harley James T Jones Joseph Jones Harry Langford James Lewis Henry Lloyd Charles Lloyd-Acton Harold Lockett Wilfred Merchant (not on church memorial) Albert E Morris J Henry Onions Thomas Pace Henry Price William N Price Ernest Pugh William Pursehouse Eaton Rogers J Sidney Sergeant R Thomas Sergeant Eric H Starkey Edward Teague Samuel Thomas Richard Turner Richard H Wainwright Frederick Wall Thomas Welsby Edgar Yates
Men born in Worfield but not on the Memorials there.
Thomas Foxall Albert Jones Charles Jones William Frederick Jones commemorated at Ditton Priors? John Perks Charles Richards
This memorial has mostly been compiled from official sources. It would be good to be able to expand it with more personal material - memories, stories, photos, etc. If you have any suitable material or any corrections please contact Greg. For news of updates follow @BridgnorthHeros on Twitter.