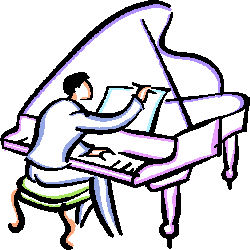 Greg Lewin Music
Piano and Keyboard Tuition in your own home.
9 Westgate, Bridgnorth, WV16 5BL, UK
Mob.: 07718 082150; Email: greg@greglewin.co.uk
---
Saturday 28th March. Video Lessons Up and Running
Hi, I hope you are all well and surviving lockdown.
After a week of testing, everything seems to be working well on the video lesson front. Everyone who has tried it has said that the lesson was a worthwhile substitute for a normal lesson.
Everyone so far has used a phone or a tablet. It works best for me when you can place the device to give a side-on view including your fingers on the keys.
WhatsApp works but FaceTime, Skype and Zoom give better quality.
If you are interested, please contact me by text so that we can arrange a session. The first session is free of charge.
---
Thursday 19th March. Music Lessons via Video Call.
In order to help maintain progress I am offering video call lessons until things return to normal.
I can offer contact via WhatsApp, FaceTime, Skype or Facebook Messenger. I know that many of you already use one of these free services, but if you don't you may find this article useful: How to make a Video Call on your Computer or Smartphone.
If you are interested, please contact me by text so that we can arrange a session. As this is unknown territory, I am offering the first session free of charge.
I hope you will feel able to support this plan. Thank you, Greg.
---
Wednesday 18th March. Music Lessons during Coronavirus Pandemic
I am aware that several clients live in families with vulnerable members; my wife also has medical conditions that put her at risk.
In order to protect us all, I am intending to follow the following plan: 1. I will continue to visit you as normal unless requested otherwise. 2. If all the schools are closed I will cease home visits. 3. During the period when schools are closed I will offer lessons via Skype or Facetime. If you would like to take advantage of this opportunity to maintain progress then please contact me.
Please contact me if you have any concerns about this – text to the number above is the best way to reach me. I will try to keep you updated via this page.
If you wish to cancel at any time please give me as much notice as possible to allow me to rearrange my schedule.
Best wishes to you all during this difficult time.
---
Wednesday 18th March. Update
After the announcement this afternoon that schools will be closed, I intend to cease home visits at the end of this week. I am very sad to make this decision but I do not wish to risk bringing this disease into your homes.
From Monday I will offering lessons by Skype. At present I am working on the practicalities of doing this. I will post again when I have thought things through. Please let me know if you have any suggestions.
---
---
Top
Back to main index

Page maintained by Greg Lewin
Last altered: 19/03/2020