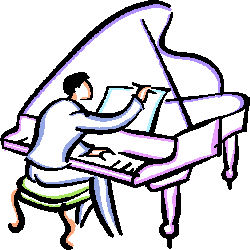 Piano and Keyboard Tuition in your own home.
19 Stafford Street, Brewood, Staffordshire, ST19 9DX, UK
Tel.: 01902 851009; Mob.: 07718 082150; Email: greg@greglewin.co.uk
---
Piano or Keyboard Tuition in the Brewood, Staffordshire Area.
Would you like to give your child the gift of being able to play a musical instrument? Would you like to play an instrument yourself? Whatever your reason for wanting to learn, it is rarely too soon or too late to begin.
Greg is a qualified music teacher with over 40 years of experience. He offers lessons in piano, keyboard, organ and theory at all levels from beginner to diploma preparation. He has taught people of all ages from 5 to 90.
Lessons can be planned to suit your needs: playing for pleasure; progressing through exams; playing for church services, education, theatre groups etc.
Unlike many teachers, Greg teaches in your own home. Many clients find this a considerable benefit. For those who live more than 5-10 miles away, arrangements can be made for lessons in Brewood. For further details please 'phone (Home 01902 851009; Mob.07718 082150) or email greg@greglewin.co.uk
About Greg Lewin
---
Top
Back to main index

Page maintained by Greg Lewin
Last altered: 8th December, 2015