South Staffordshire War Memorials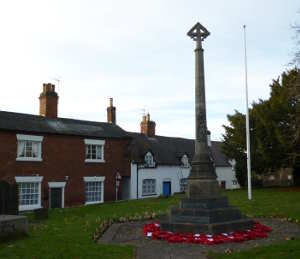 Dedicated to the memory of all the men and women of the South Staffordshire area who died during the two World Wars.
Edwin Brereton
Edwin Brereton was born at Wheaton Aston in 1891 and was baptised at Lapley Parish Church on 31st May. He was the son of John Brereton, wheelwright, and his wife Elizabeth. John died in 1896 and Elizabeth then worked as a charwoman to support her family. In 1901 they lived in Mill Lane but by 1908 they had moved to Chapel Cottage.
In 1911 Edwin was 21 and was working as a general labourer. He had already enlisted in the 4th (Reserve) South Staffordshire Regiment with whom he served six years, being discharged in March 1914. He married Minnie Bonnell at Lapley in 1915 and had two children, Minnie and Edith.
Edwin served as a Pioneer with the 1st Reserve Battalion of the Royal Engineers. He died at the Gravesend Military Hospital on 7th November, 1918. He was not admissible for a War Gratuity and does not appear to have received any medals so he had probably served for less than six months and not been overseas.
This memorial has mostly been compiled from official sources. It would be good to be able to expand it with more personal material - memories, stories, photos, etc. If you have any suitable material or any corrections please contact Greg.