South Staffordshire War Memorials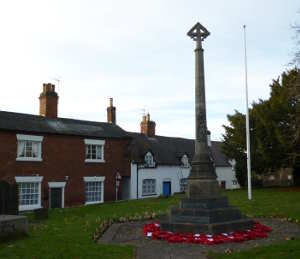 Dedicated to the memory of all the men and women of the South Staffordshire area who died during the two World Wars.
George Griffiths
George Griffiths was born at Lydham nr. Bishops Castle, Shropshire, in 1900. He was the son of Richard Griffiths, a farm bailiff, and his wife Harriet. By 1901 the family had moved to Cosford Grange, Albrighton and, by 1911, to Edgland, Longnor (in the parish of Lapley).
George enlisted in June 1915. He served with the 5th Battalion of the King's Shropshire Light Infantry. He joined his Battalion in Belgium in October 1915 while it was in the Ypres area. After an unpleasant winter in the trenches the battalion moved to the Arras area for a while before moving to the Somme in early August. George was killed in action on 24th August, 1916 during the Battle of Delville Wood. He was 16 years old. He is commemorated on the Thiepval Memorial.
Private George Griffiths, 18301, was awarded the Victory and British War Medals and the 1914-15 Star. His older brother Pryce Henry Griffiths is also commemorated on the War Memorial at Lapley.
This memorial has mostly been compiled from official sources. It would be good to be able to expand it with more personal material - memories, stories, photos, etc. If you have any suitable material or any corrections please contact Greg.