South Staffordshire War Memorials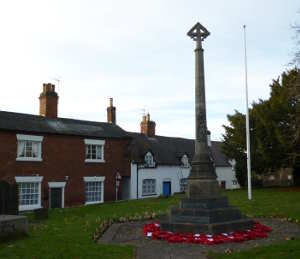 Dedicated to the memory of all the men and women of the South Staffordshire area who died during the two World Wars.
William Poston
William Poston was born at Burlington, Shifnal, in 1898. He was the son of Agnes Poston. Agnes married William Bate Starkey in 1902 and the family lived in Wheaton Aston for a while before moving to Hatherton, Penkridge, where William Bate worked as a coal miner.
William Bate Starkey's younger brother George is also commemorated on the Lapley War Memorial.
William Poston served in the 2nd Battalion Lincolnshire Regiment. He was probably called up late in 1917 (he had been serving for less than a year at the time of his death). He was killed in action on 23rd October, 1918 during the Hundred Days Offensive. On 23rd October the 2nd Lincs Regt. was in Inchy where it took part in an attack towards Neuilly. The attack was called off due to heavy enemy shelling in which 28 Other Ranks were killed. William is buried in Ovillers New Communal Cemetery, Solesmes.
Private William Poston, 61595, was awarded the Victory and British War Medals.
This memorial has mostly been compiled from official sources. It would be good to be able to expand it with more personal material - memories, stories, photos, etc. If you have any suitable material or any corrections please contact Greg.