South Staffordshire War Memorials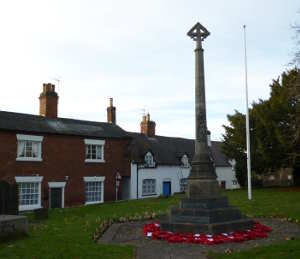 Dedicated to the memory of all the men and women of the South Staffordshire area who died during the two World Wars.
William Bird
William Bird was born at Moseley Village, Wolverhampton. He was the son of William Bird, a farm cowman, and his wife Susan. The family lived in Sutton Maddock, Shropshire, in 1891 and Gunstone nr Brewood in 1901. By 1911 (after the death of William senior) they lived in Station Road, Codsall, where Susan worked at home as a tobacconist. William junior was working as a domestic groom in 1901 and as a domestic gardener in 1911.
William probably joined up towards the end of 1915. He served with the 1st Battalion of the South Staffordshire Regiment. He went missing on 31st August 1916, during the Battle of Delville Wood (part of the Somme campaign). He was later presumed dead and is commemorated on the Thiepval Memorial.
Private William Bird, 24096, was awarded the Victory and British War Medals.
This memorial has mostly been compiled from official sources. It would be good to be able to expand it with more personal material - memories, stories, photos, etc. If you have any suitable material or any corrections please contact Greg.