South Staffordshire War Memorials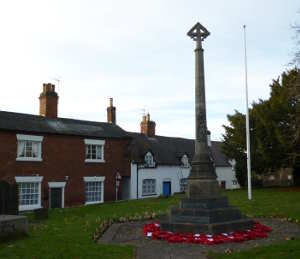 Dedicated to the memory of all the men and women of the South Staffordshire area who died during the two World Wars.
George Henry Caswell
George Henry Caswell was born at Donnington in late 1890 and was baptised at Preston on the Weald Moors on 28th December. He was the son of Thomas Creswell, a farm labourer, and his wife Mary Jane. The family moved around with Thomas's work, living in Wellington, Shrewsbury and Tong before coming to Wrottesley Lodge.
George became a farm worker like his father before him. He probably enlisted in the army towards the end of 1915. He served with the 1st Battalion South Staffordshire Regiment, probably joining them in France at about the time of the start of the Battle of the Somme.
At the start of August 1916 the 1st South Staffs were in rest billets. They remained in camp until the 29th when they were ordered back into the trenches in the Delville Wood area. Weather conditions were bad and the trenches were waist deep in mud - which put equipment out of order and made resupplying the front line very difficult. The trenches were subjected to heavy artillery shelling and, on 31st, to a raid by an enemy bombing party which was only driven back with difficulty. During this period, George was wounded; he died of his injuries at No 23 Field Ambulance on the 31st August. He is buried in Dernancourt Communal Cemetery Extension.
Private George Henry Caswell was awarded the Victory and British War Medals.
This memorial has mostly been compiled from official sources. It would be good to be able to expand it with more personal material - memories, stories, photos, etc. If you have any suitable material or any corrections please contact Greg.