South Staffordshire War Memorials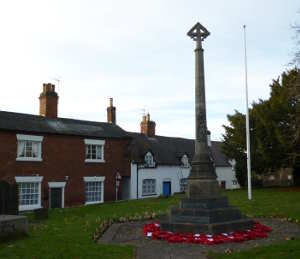 Dedicated to the memory of all the men and women of the South Staffordshire area who died during the two World Wars.
J W Picken
John William Picken was baptised at Codsall on 16th July, 1893. He was the son of William Picken, a blacksmith, and his wife Hannah. The family lived at Codsall Wood.
John followed his father's trade. Soon after the outbreak of war he enlisted in the Royal Field Artillery as a Shoeing Smith. He went to France in November 1915. At the time of his death, John was serving with D Battery, 108 Brigade RFA - a Howitzer unit under the command of the 24th Division. If he had spent all his service with this unit, he would have seen action at several of the major battles on the Western Front including the Somme (in both 1916 and 1918) and the Third Battle of Ypres (Passchendaele). John lived to see the end of the war but died a few weeks later on 7th December 1918 at 15th Casualty Clearing Station. He is buried in Don Communal Cemetery, Annoeullin, in an area which was held by the Germans until just before the Armistice - which suggests that he was wounded in the closing days of the war or (more probably) that he died of the Spanish 'flu.
S/Smith John Picken, 31561, was awarded the Victory and British War Medals and the 1814/15 Star.
This memorial has mostly been compiled from official sources. It would be good to be able to expand it with more personal material - memories, stories, photos, etc. If you have any suitable material or any corrections please contact Greg.