South Staffordshire War Memorials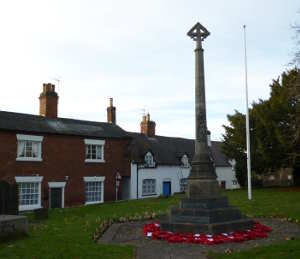 Dedicated to the memory of all the men and women of the South Staffordshire area who died during the two World Wars.
Frederick Stevenson
Frederick Stevenson was born on 21st January,1886 at Weston-under-Lizard where he was baptised on 11th April. He was the son of William Stevenson, an estate labourer, and his wife Elizabeth who lived at Cross Roads. When Frederick left school he went to work as a farm labourer.
Frederick enlisted in December, 1914 and served with the 2nd Battalion, King's Shropshire Light Infantry. After a brief period in France, the Battalion was sent to Salonika in December, 1915. Like many of the troops sent to Greece, Frederick succumbed to malaria. He was evacuated to hospital in Malta where he died on 31st December, 1916, and was buried at Pieta, Military Cemetery.
Private Frederick Stevenson, 16419 KSLI, was awarded the Victory and British Medals and the 1914-15 Star.
This memorial has mostly been compiled from official sources. It would be good to be able to expand it with more personal material - memories, stories, photos, etc. If you have any suitable material or any corrections please contact Greg.