South Staffordshire War Memorials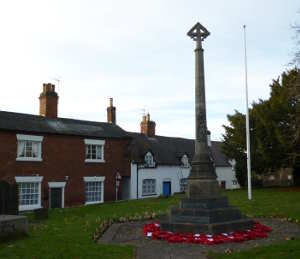 Dedicated to the memory of all the men and women of the South Staffordshire area who died during the two World Wars.
W Haycock
William Haycock was born in Wolverhampton in 1879. He was the son of Thomas Haycock, a clerk (writing) and agent for the Friendless Girl's Home, and his wife, Elizabeth. In 1881 the family lived in Oak Street, Wolverhampton but by 1891 they had moved to Sandy Lane, Brewood.
After he left school, William appears to have joined the army - serving with the South Staffordshire Regiment at Lichfield in 1901 and in South Africa in 1911. In 1914 he was one of the first to go to France, arriving there a week after the declaration of war. William was killed in action on 14th July, 1916 during the Bazentin Ridge phase of the Battle of the Somme. He is buried in Caterpillar Valley Cemetery, Longueval, France.
Private William Haycock, 6115, 1st Battalion South Staffordshire Regiment, was awarded the Victory and British Medals and the 1914 Star.
This memorial has mostly been compiled from official sources. It would be good to be able to expand it with more personal material - memories, stories, photos, etc. If you have any suitable material or any corrections please contact Greg.