South Staffordshire War Memorials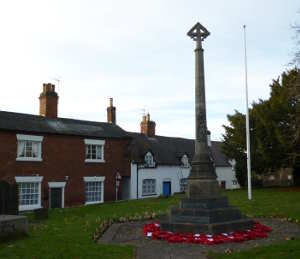 Dedicated to the memory of all the men and women of the South Staffordshire area who died during the two World Wars.
Thomas Wynn
Thomas Wynn was born at High Ercall, Shropshire, in 1899. He was the son of Samuel Wynn, a farm waggoner, and his wife Fanny. By 1911 the family was living at Woodlands Cottages, Weston under Lizard.
Thomas joined up in August 1914 at the age of 15. He went to France in November 1915 but probably travelled straight to Marseilles by train to join the 2nd Battalion King's Shropshire Light Infantry as they embarked for Salonika. The battalion took over the front line at Neohori at the mouth of the River Struma at the end of July 1916, where it was badly ravaged by malaria. Thomas was one of the victims, dying of malaria on 15th August 1916. He is buried in Mikra British Cemetery, Kalamaria.
Private Thomas Wynn, 10453, 2nd KSLI, was awarded the Victory and British War Medals and the 1914-15 Star. Two of Thomas' brothers, Joseph and James also served in the war. There appears to be an error in the lists on the lych gate at Weston Cemetery where Joseph is listed among the dead and Thomas among the survivors. Thomas' youngest brother, Samuel is listed among those who served in the Second World War.
This memorial has mostly been compiled from official sources. It would be good to be able to expand it with more personal material - memories, stories, photos, etc. If you have any suitable material or any corrections please contact Greg.