South Staffordshire War Memorials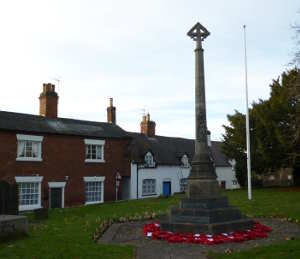 Dedicated to the memory of all the men and women of the South Staffordshire area who died during the two World Wars.
A Lewis
Albert Daniel Lewis was born in Brewood in 1895. He was the son of John, a bricklayer, and Emma his wife. In 1901 the family lived in Engleton Lane. By 1911 they lived at Engleton Mill where John worked as Estate Bricklayer. Albert (aged 15) was working as an assistant draper.
Albert enlisted at Birmingham, probably at the end of 1915. He was posted to the Shropshire Light Infantry but later transferred to the 164th Company of the Machine Gun Corps (a unit formed in the 55th (East Lancs) Division on 19th February 1916). Albert died of wounds on 5th October, 1916. During September his Division had been involved in several phases of the Battle of the Somme (Guillemont (4th - 6th), Ginchy (9th), Flers-Courcelette (17th - 22nd), Morval (25th -28th). Albert is buried in St. Sever Cemetery, Rouen.
Private Albert Daniel Lewis, 8461 (formerly 19126), was awarded the Victory and British War Medals.
This memorial has mostly been compiled from official sources. It would be good to be able to expand it with more personal material - memories, stories, photos, etc. If you have any suitable material or any corrections please contact Greg.