South Staffordshire War Memorials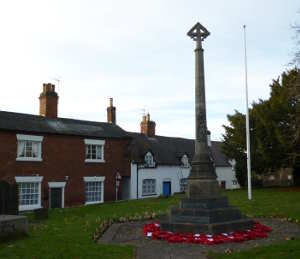 Dedicated to the memory of all the men and women of the South Staffordshire area who died during the two World Wars.
Private Samuel Bull.
Samuel Bull was baptised at Pattingham on 15th July 1888. He was the son of Thomas Bull, a labourer from Nurton, and his wife Sarah. In 1911 Samuel was still living with his parents and siblings at Nurton. He was working as a gardener.
Samuel enlisted in the 9th Battalion of the South Staffordshire Regiment in May 1916. The 9th was a Pioneer unit - tasked with the building and repairing of roads, trenches, railways etc. On 20th July 1917 the battalion was at work repairing trenches, repairing a bridge and laying track at Dickebush. The war diary records three other ranks killed, one other rank wounded. Samuel was probably killed by artillery or sniper fire. He is buried in Perth Cemetery (China Wall), nr Ypres, Belgium.
Private Samuel Bull, 241697, South Staffordshire Regiment, was awarded the Victory and British War Medals. Samuel's cousin Dennis Bull is also remembered at Pattingham. The Roll of Honour in Pattingham Church includes the names of William, John, Thomas and George Bull.
This memorial has mostly been compiled from official sources. It would be good to be able to expand it with more personal material - memories, stories, photos, etc. If you have any suitable material or any corrections please contact Greg.