South Staffordshire War Memorials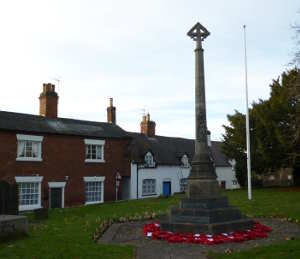 Dedicated to the memory of all the men and women of the South Staffordshire area who died during the two World Wars.
Private Charles Henry Caddick.
Charles Henry Caddick was baptised at Pattingham in 15th August, 1897. He was the son of Benjamin John Caddick, a 'gardener not domestic' and his wife Jane who lived in Pattingham Village. In 1911, 14 year-old Charles was living with his parents at Pattingham and was working as a 'groom, gardener domestic'.
Charles enlisted in the 1st/1st Staffordshire Yeomanry in September 1914. In October 1915 his battalion was at sea en-route to Salonika when it was diverted to Egypt where it remained until 1918.
The battalion was present at the taking of Gaza in October 1917. In October 1918 the regiment was at Lebwe where the war diary records that many men died in hospital - presumably of sickness. Charles 'died' (of natural causes, not 'in action' or 'of wounds') on 21st October 1918. He is buried in Beirut War Cemetery.
Private Charles Henry Caddick, 300405 1/1 Staffordshire Yeomanry, was awarded the Victory and British War Medals and the 1915 Star. His brother Benjamin John Caddick is commemorated on the Pattingham War Memorial and brothers? Joseph and Ernest are on the Roll of Honour.
This memorial has mostly been compiled from official sources. It would be good to be able to expand it with more personal material - memories, stories, photos, etc. If you have any suitable material or any corrections please contact Greg.