South Staffordshire War Memorials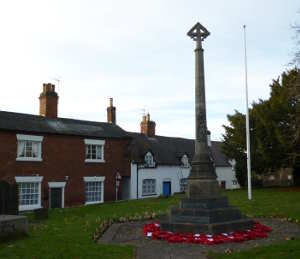 Dedicated to the memory of all the men and women of the South Staffordshire area who died during the two World Wars.
Private John Owen
John Owen was born at Admaston, Shropshire on 14th June 1892 and was baptised at Wrockwardine on 10th July. He was the son of William Owen, a farm waggoner, and his wife, Elizabeth.
By 1901 the family had moved to Pattingham. They were living at Rudge Cottages in 1901 and at Great Moor in 1911. After finishing his schooling, John worked as a farm labourer.
John had moved to Cottingham, Northamptonshire, by the time he became a soldier in late 1915 or early 1916. He enlisted at Wolverhampton and joined the South Staffordshire Regiment briefly before being transferred to the 1st Battalion of the Royal Warwickshire Regiment. He had probably not been in France long when he was killed in action on 12th October, 1916 during the Battle of Le Transloy phase of the Battles of the Somme. On the 12th October the 1st Warwicks were in trenches East of Les Boeufs. After a five-and-a-half hour intensive bombardment from the French and British artillery the battalion took part in an unsuccessful attack on the German 'Brown Line'. The war diary records that between 9th and 15th October 60 Other Ranks of the battalion were killed.
Private John Owen, 27569 (previously 24799 S. Staffs Regt) is commemorated on the Thiepval Memorial. He was awarded the Victory and British War Medals. His older brother Alfred is named on the Roll of Honour in Pattingham Church.
This memorial has mostly been compiled from official sources. It would be good to be able to expand it with more personal material - memories, stories, photos, etc. If you have any suitable material or any corrections please contact Greg.