South Staffordshire War Memorials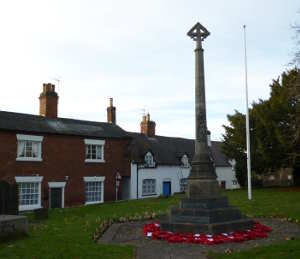 Dedicated to the memory of all the men and women of the South Staffordshire area who died during the two World Wars.
Private Samuel George Richards
Samuel George Richards was born at Pattingham during the summer of 1891. His father, John, died while Samuel was still a young child and he and his siblings were brought up by his widowed mother, Sarah, in Pattingham village.
By 1911, Samuel was working as a groom. He was called up in May 1916, joining the Staffordshire Yeomanry before being transferred to the 1st/5th Battalion of the South Staffordshire Regiment.
On 28th June 1917, while stationed at Lievin, the 1st/5th attacked enemy trenches East of Cite de Riaumont. The report of operations included in the battalion war diary records '203268 Pte Richards S.G. C Co'y' among the missing. He is commemorated on the Arras Memorial.
Private Samuel George Richards, 203268 (formerly 4000 Staffordshire Yeomanry) was awarded the Victory and British War Medals. Thomas and William Richards, probably brothers of Samuel, are named on the Roll of Honour in Pattingham Church.
This memorial has mostly been compiled from official sources. It would be good to be able to expand it with more personal material - memories, stories, photos, etc. If you have any suitable material or any corrections please contact Greg.