South Staffordshire War Memorials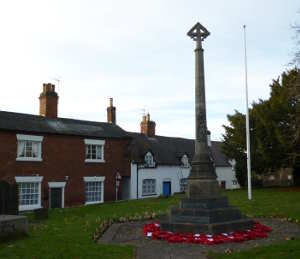 Dedicated to the memory of all the men and women of the South Staffordshire area who died during the two World Wars.
W Nichols
William Albert Nicholls was born at Harriots Hayes near Albrighton in 1896 and was baptised at Albrighton Church on 8th November 1896. He was the son of Albert Nicholls, a farm waggoner, and his wife Hannah. The family later lived at Gunstone Farm Cottages nr. Codsall, and at Moseley Old Hall Cottages, Fordhouses. At the time of William's death, Albert and Hannah were living at Engleton.
In 1911 William (age 14) was living with his parents at Gunstone and was working as house boy on a farm. In February 1914 - while living at Gailey - William joined the Army Reserve but he doesn't appear to have enjoyed the experience as after a month's training he was 'discharged by purchase'. However he enlisted again in the opening weeks of the war and this time he was posted to the East Yorkshire Regiment. William went to France on 1st September 1915 and was killed in action on 29th of that month during the Battle of Loos. He is commemorated on the Loos Memorial.
Private William Nicholls 14419 was awarded the Victory and British War Medals.
This memorial has mostly been compiled from official sources. It would be good to be able to expand it with more personal material - memories, stories, photos, etc. If you have any suitable material or any corrections please contact Greg.